How Laser Processing Is Innovating Medical Device Manufacturing
Join us at MD&M West for our lunch n' learns, tech talks, and panel of experts to learn how laser processing drives key benefits for medical device manufacturers. 
August 3, 2021 by Coherent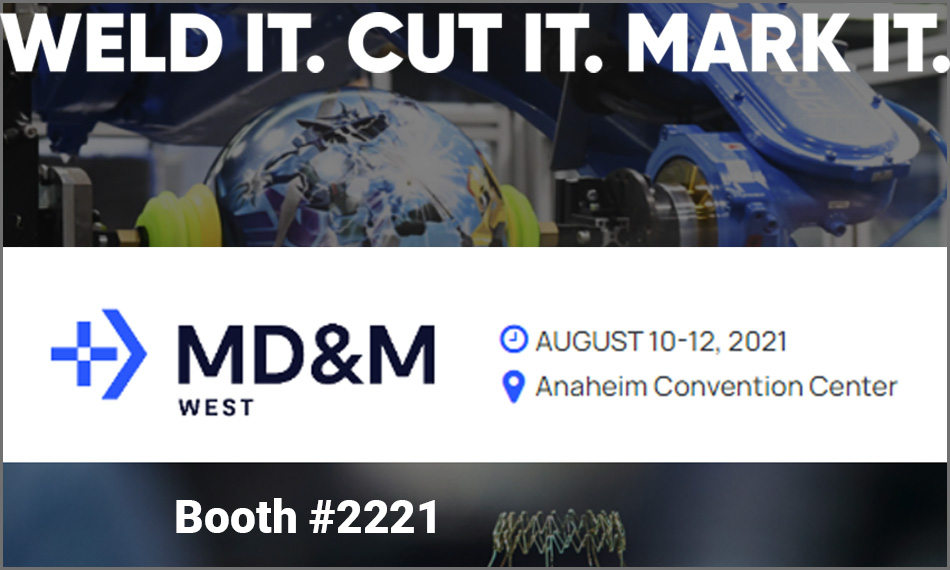 Laser processing can save you money, deliver better quality products, and even improve your competitive position. But, achieving these goals requires getting the right laser system – with the mix of automation, process monitoring, and laser source capabilities that matches your specific requirements. 
To get a close-up view into the benefits of laser processing, come see us at the West Coast's medical device manufacturer event of the year: MD&M West from August 10 – 12. We're featuring lunch n' learns, tech talks, and panel of experts to see how laser processing drives key benefits for medical device manufacturers.
The laser advantage
Lasers have become widely used for processing (cutting, marking, welding, etc.) in medical device manufacturing for three main reasons:
They can produce smaller and more precise features than any other technology.  
Non-contact laser processing imparts no mechanical force to a workpiece, so it doesn't introduce any stress or chance of breakage. 
When used right, it's possible to limit how much the laser heats the part during processing. That's important, because heat can damage a part or somehow change its physical properties. 
In the field of medical product manufacturing, laser welding in particular offers several advantages over other joining technologies, such as GTAW and ultrasonic welding, for the production of delicate and high-precision medical devices. The same is true in laser marking, where the ability to produce highly miniatured marks and specialized "black marks" delivers both tracking and anticounterfeiting capabilities unachievable through other methods, 
But laser processing usually has a higher capital cost than other methods. Now, a new generation of laser welders, cutters, and markers have become available which that are both easier to use, and also deliver even better results. This significantly reduces their long-term cost of ownership, making them a cost-competitive alternative. However, getting the best value from these tools requires an understanding of how to effectively implement them. 
Lunch 'n Learn
Please join us at MD&M West where you can attend our free Tech Talks and Lunch 'n Learn sessions. Here's where you'll learn how global medical manufacturers are already adopting and benefitting from laser solutions – not just to reduce costs, improve quality and increase yields, but also to enable product innovation and greater value add.  
We're also hosting a panel discussion on how you can drive down cost and boost operational efficiency using "islands of automation." Some of the specific topics this session will cover include:
Improving production throughput with shorter cycle times 
Seeing a laser system as the sum of its parts  
Optimizing precision placement of delicate raw materials  
Customizing on-loading and off-loading and more 
We take laser welding personally
Our team of experts will also be available during MD&M West to give you a personalized 30-minute consultation. You'll have the chance to discuss your specific needs, or come up to speed on how the latest developments in advanced laser cutting, marking, and welding can improve your work. 

Don't miss this opportunity at MD&M West to learn how lasers can work for you.
Connect with Coherent
Our team is ready to help.