Lasers
CellX PT Multi-Wavelength Laser Engine
---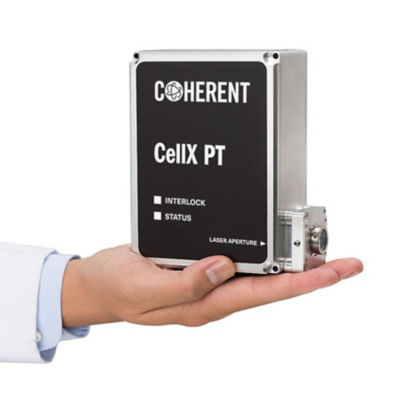 Fully PermAlignTM laser engine platform for volume OEM applications in flow cytometry and other bio-instrumentation applications.
Up to four wavelengths and with PermAlignTM beam delivery optics. Fixed pattern of stripes ideal for flow cytometry applications. Configured during manufacture to customer's specific requirements. Hermetically-sealed and robust for maximum reliability for instrument OEMs.
---
Laser Engine Designed for Flow Cytometry
Development products offer typical performance allowing evaluation of the CellX PT platform. For volume OEM applications, CellX PT can be configured to specific customer requirements for wavelength, power, and output pattern. Contact a Coherent Product Expert to discuss your specific requirements.
Product Specifications
CellX PT Model


CellX PT Development Laser

CellX PT Developer's Kit

Part Number

1384988

2272348

Wavelengths (nm)

405, 488, 561, 637

405, 488, 561, 637

Output Power (mW) for each wavelength

100

100

Focused Stripe Size

Gaussian, TEM00 (both axes)

Focused Stripe Size (µm)  (Vertical Size x Horizontal Length) (1/e2)

8 x 80

8 x 80

Focused Stripe Spacing (µm) (Vertical Separation)

100

100

Accessories

-

Power Supply, Power Cord OEM Heat Sink, Fan-Cooled Heat Sink, and Accessory Kit
Video Spotlight

Light Engines for Biomedical Instrumentation
Instead of spending overhead cost and effort to combine individual lasers and steer the beam where it's needed, the OBIS CellX does all this for you. State-of-the-art bioinstrumentation devices can be created in a challenging time frame with this universal light engine.