Innovating MicroLED Display Manufacturing
Learn how Coherent's new UVtransfer integrated laser system performs the three vital processes in MicroLED fabrication — LLO, LIFT, and repair/trimming.
July 2, 2021 by Coherent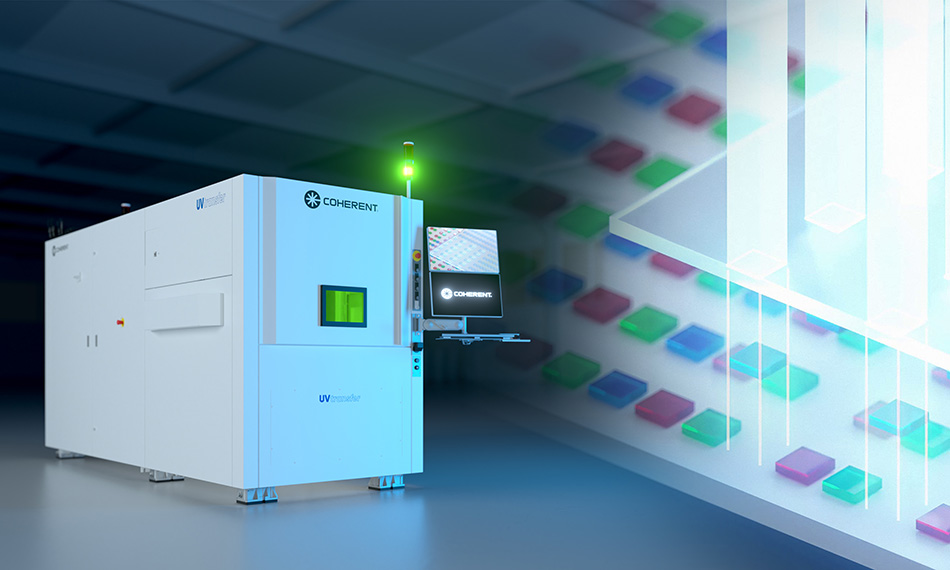 The new UVtransfer is an integrated laser system that performs the three vital processes in MicroLED fabrication – Laser Lift-Off (LLO), Laser-Induced Forward Transfer (LIFT), and Repair/Trimming. UVtransfer supports R&D and pilot line fabrication and is based on the same high-energy excimer laser technology long-proven in high volume display production for LTPS backplane annealing. 
MicroLEDs (μLEDs) represents an exciting opportunity, potentially lowering the costs for very large area displays as well as some small area display applications. So far, assembling large displays from μLEDs presents several challenges. This is because of the truly massive number and small size of the active dies that must be precisely transferred from the growth wafer to the final glass substrate.
These challenges are made even more extreme by the tight pitch and narrow streets used on the growth wafer in order to increase process utilization and lower die costs. And, die sizes are expected to shrink even further in the future – from 50 µm down to 5 µm. So, manufacturing methods must be readily scalable to these smaller dimensions.
Watch a video that explains how the UVtransfer system solves the challenges of MicroLED display production.
UVtransfer is a unique system available now that handles all three pivotal manufacturing steps. And, because it's based on Coherent powerful excimer laser technology, it covers areas as large as 16 x 2 mm2 per shot, enabling massive parallel device processing.  This is critical to moving hundreds of millions of dies for large displays and making these displays economically viable. 
Also, the UVtransfer system is completely compatible with the inevitable trend to smaller die sizes, eliminating the investment risk often encountered with new manufacturing technologies.
Download a whitepaper now and read how UVtransfer is the future-proof solution that's ready today.
Display manufacturers who choose the UVtransfer system can count on Coherent´s worldwide support team from local application labs, MicroLED process experts, local service, and local sales teams who all work closely with customers from initial interest to a successful working solution. 
Connect with Coherent
Our team is ready to help.