Laser Machines and Systems
LME Series
---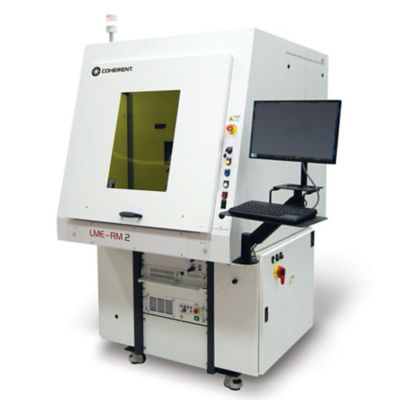 Configure these laser marking workstations with a variety of different lasers as well as part motion and handling options for optimum performance in precision applications.
LME Series deliver high throughput, precision part marking in production environments, particularly in medical, automotive, and other demanding applications. Operating costs are minimized through the use of efficient, air-cooled laser sources.
---
Standard and Customized Platforms
Combine your choice of laser source and part motion/handling mechanics with one of three workstation packages to get a laser marking system for your specific needs.
Product Specifications
Model


Maximum Workpiece Size (mm)


Part Motion Options


Laser Choices


Key Options


LME-RM LT 

350 x 350 x 350 

250 x 250 mm XY stage 

PowerLine F 20/20 Varia/30/50/100  
PowerLine E Air 10/25 
PowerLine E 20/25/40  
PowerLine E 20/25 SHG 
PowerLine E Air 10 THG  
PowerLine E 20 THG 
PowerLine Pico 10, SHG, and THG 

 
Vision modules 
Circumferential indexer 
Foot switch 
Fume extractor 
Bar code scanner 

LME-RM 2 

760 x 600 x 500 

500 x 500 mm XY stage 

LME-RM RT


400 x 300 x 295 

rotary table 
Laser Solutions for Automotive and E-Mobility Manufacturing | Coherent
Automotive Interiors & Components
Achieve higher precision with powerful, easily customizable lasers that improve productivity and quality when processing automotive interiors and components.
Precision Manufacturing and Materials Processing Lasers | Coherent
Fabricating & Metalworking
Get exactly the right solution for your specific non-metal fabricating and metal processing needs while delivering process quality and efficiency.