Laser Machines and Systems
PowerLine
Laser-based system for marking and engraving a wide range of materials. Integrates a laser with focusing/scanning optics and software.
PowerLine laser markers are ideal for system builders and production line integration. Flexible software allows straightforward implementation of complex tasks such as 3D marking on curved surfaces, on-the-fly marking, engraving, and mark serialization.
PowerLine Laser Markers – Some Key Features
Choose from the most complete product portfolio, comprising 1064 nm, 532 nm and 355 nm wavelengths and USP lasers, as well as specialized beam delivery and scanning options.
Product Specifications
| | | | | |
| --- | --- | --- | --- | --- |
| Model Name | Laser Type | Main Features | Target Materials | Typical Applications |
| PowerLine C | CO2 | Economical, Versatile | Most Non-Metals | Engraving glass, organics, and natural materials. |
| PowerLine E 8 QT | High Power (6 W) UV | High Speed, High Contrast | Plastics | Marking of organics by bleaching. |
| PowerLine E Series | Solid State (IR, Green or UV) | High-Quality Marks | Diverse, Laser Dependent | Semiconductor device marking, marking of organics by foaming, day & night, and grayscale marking. |
| PowerLine E Twin | Solid State (IR, Green or UV) | High-Quality, Very High Speed | Organics | Serialization marking of semiconductor devices. |
| PowerLine F Series | Air-Cooled Fiber Laser (IR and Green) | Unique Performance | Metals, Plastics | Engraving/marking of metals, marking of lead frames, ear tag marking, marking of organics by carbonization. |
| PowerLine F Dual Head | Air-cooled Fiber Laser IR | High-Throughput, Cost-Effective | Metals, Plastics | Lead frames, IC strips, JEDEC trays, carbonization marks. |
| PowerLine F Twin | Air-Cooled Fiber Laser (IR and Green) | Very High Speed, Simultaneous Asynchronous | Metals, Plastics | IC strips, serialization marks, larger objects. |
| PowerLine Prime | Solid State IR | Compact, Air-Cooled | Plastics | General marking in low or medium volume production. |
| PowerLine Rapid NX | USP IR | Laser Black Marking | Steel, Titanium, Aluminum | Laser black marking. |
How to Get 2X Faster Laser Marking of Larger Fields
The Coherent PowerLine F Twin combines two lasers as a larger/faster marker with a single user interface. This simple and economical laser marker doubles the throughput for plastic and metal applications, including label marking and kiss-cutting, semiconductors, and serialization of trays of parts.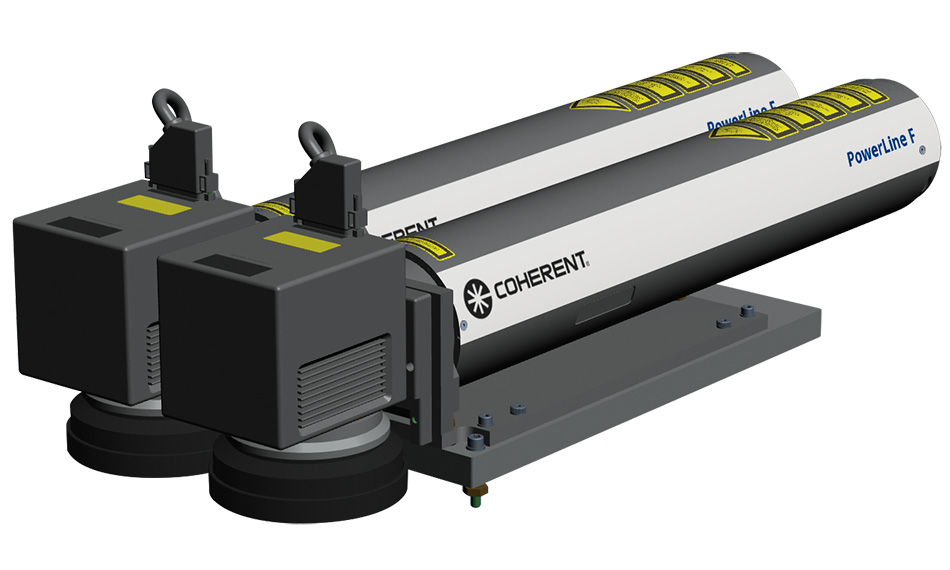 Video Spotlight
Marking On-The-Fly Delivers Accurate Laser Marks on Moving Parts
Marking on-the-fly technology from Coherent simplifies the task for marking parts on high-volume production lines without any time penalty for stopped motion. It is an ideal solution for marking high volumes of small parts including electronic components, medical devices, consumer products, and other mass-produced devices. Available with all Coherent PowerLine laser markers, it is well-suited to serial marking with indexed part numbers and provides the accuracy and precision to support marking functional scales and other fiducials.