Introducing the Next-generation Green Laser - Verdi C
This compact, multi-watt, CW, green laser, streamlines applications like Ti:S pumping, semiconductor inspection, and annealing.
January 14, 2022 by Coherent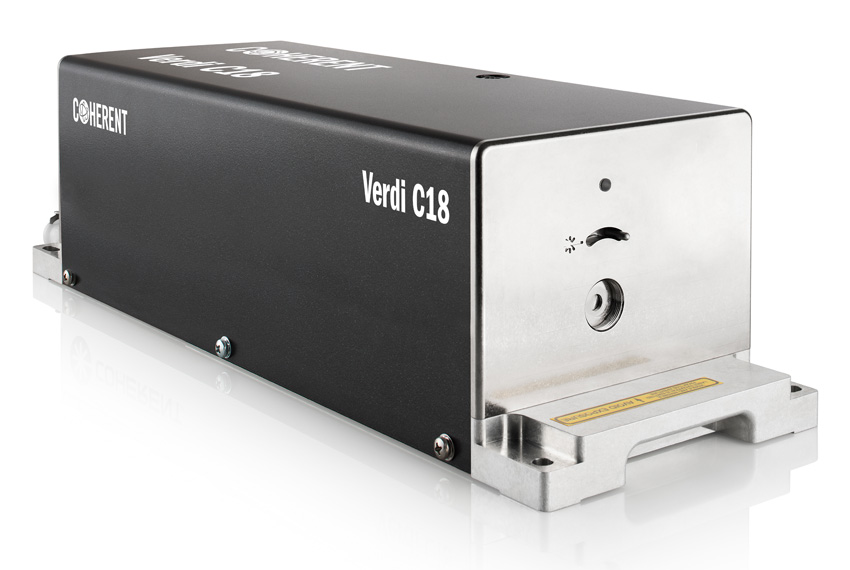 Scientists and OEMs will all benefit from the space-saving format of the new Verdi C series of multi-watt, CW green (532 nm) lasers. That's because this newest addition to the popular Verdi family now features complete integration – where the laser head, the power supply, control electronics, and the water-cooled baseplate are all incorporated into a single, compact package. With an initial choice of 12, 15, and 18 W outputs, these new lasers offer both convenience and performance for laboratory and industrial applications.
More than just a small package
Verdi C lasers all make use of our proven, optically pumped semiconductor laser (OPSL) technology. This delivers several performance benefits, including:
Intrinsically very low noise because of the very short upper-state lifetime of the gain medium
Wide (10-100%) power tunability thanks to minimal thermal lensing in the gain medium
Excellent stability because of the inherent robustness of Coherent's OPSL design
New standards of reliability and longevity
The integrated platform and updated components in Verdi C lasers also bring you new standards in ease of use, reliability, and longevity. The one-box design eliminates the laser umbilical, puts the power supply right next to the pump diodes, and includes improvements at the component level. Together, that makes these lasers the most reliable and long-lived Verdi's ever.
Innovative performance for demanding applications
Green continuous-wave lasers have long been workhorse tools in several applications. Coherent is proud of our innovation and leadership in these lasers, spanning multiple technologies over many decades, including first ion lasers, then high-performance DPSS lasers, and most recently OPS lasers. And now with the Verdi C, we continue that tradition of leadership.
So whether you need a low-noise laser for Ti:sapphire pumping or atom trapping and cooling, or you're an OEM performing semiconductor inspection or annealing, Verdi C is now the best choice for your application. It delivers the biggest performance in the smallest package, enabling exceptional ease of use and superior results.
Connect with Coherent
Our team is ready to help.