Training Designed for You
Our industry-leading training group offers hundreds of training courses for all levels of users, designed for service, support, user, and maintenance operators. Offered in facilities located across the globe, or at your company site, Coherent training helps you maximize the value of your Coherent laser products.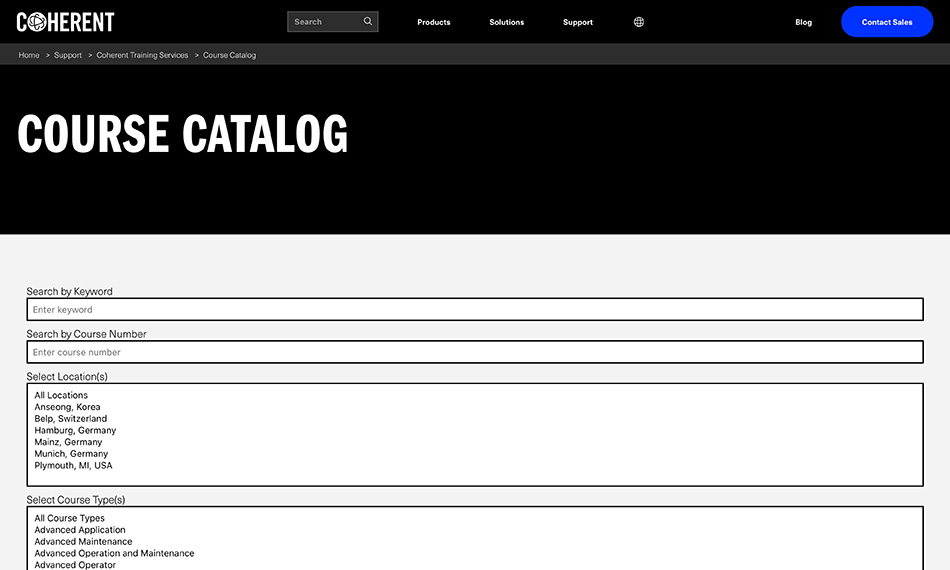 Maximize Product Value Through Coherent Training
Lasers are complex instruments that are highly specialized for specific use cases. Coherent Training is available to all customers to help you ensure optimum laser performance and increase product life.
We offer an extensive curriculum in our training services program, including custom courses tailored to your specific requirements – preventative maintenance, process optimization, application development, and much more. In addition, our training team can work with you and your organization to customize a training program to fit your unique requirements.
Participants who successfully complete a laser training course will gain a level of knowledge and skill to effectively and efficiently operate, optimize, and maintain their laser system.
Coherent training courses are available to current customers who have been shipped products on order. However, given the hands-on nature of training, we do not offer training to customers who have not yet received products.
Instructors
Learn from experts with specialized knowledge gained through formal study and practical field experience. Our educators have experience in manufacturing, technical support, and product engineering. Each instructor creates a professional and comfortable environment that's proven to deliver valuable student experiences.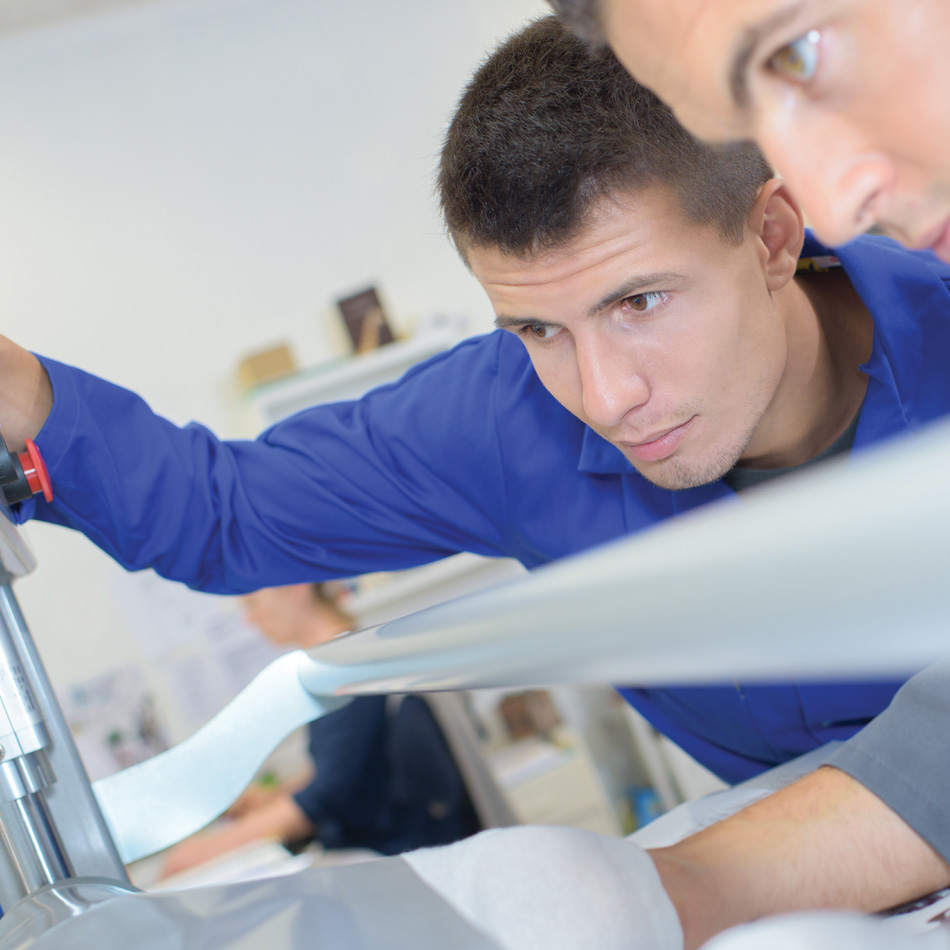 Course Features
We developed our training courses based on real-world experience and feedback gained through thousands of customer and product interactions each year. Key features and benefits of the Coherent laser training program include:
Get a comprehensive review of laser system components and functions.
Diagnose common issues faster so you can minimize downtime.
Keep your systems operating at peak performance
Increase uptime and utilization
Offer standardized courses designed to maximize coverage of a specific subject with formal training and hands-on experience.
Tailor custom-designed courses for you and your company offered in a Coherent training facility or at your location.
Enjoy a low student-to-trainer ratio and create opportunities for individualized attention and hands-on laser systems experience.
Create a safe learning environment for all participants with an emphasis on laser safety.
Learn from professional instructors with practical, industry-based experience.
Use modern, dedicated training laboratories for a factory-trained experience.
Get hands-on lab time and formal lectures during the theoretical portion of the courses.
All Course materials are included in the course tuition.
Industry-recognized official certification upon completion.
Prerequisites
The registered attendee must have access to the laser product or system that is the focus of the course they are registering for.
Courses, with few exceptions, are conducted in English. Coherent does have a training program in Germany that requires German-speaking attendees. Knowledge of how to read schematics and/or block diagrams is also very helpful.
A pre-course questionnaire must be completed and returned to Coherent at least two weeks before the start of the course.
Course attendees must complete the on-line laser safety training provided by Coherent and must pass the quiz that follows, prior to attending a training course.
For on-site training, a laser system that is appropriate for the course subject, and a proper training room needs to be made available for the duration of the training course.
Training at Göttingen and Hamburg: students from Germany need EFK qualification and all others need an electrical qualification.
Laser Safety Standards for Laser Owners
Laser owners have the fundamental responsibility to provide for the safe use of lasers within their facility, to their employee users and to implement safety programs to adequately control the hazards associated with laser use. 
In the United States, the accepted governing standards are the ANSI Z136 series, The Safe Use of Lasers. Additionally, the Federal OSHA (Occupational Health & Safety Administration) has adopted the ANSI-series standards as their governing regulation for workplace laser safety. Moreover, aspects of laser use can also be regulated at the state and local government levels.
Outside of the United States, international standards such as IEC 60825 series, Safety of Laser Products, prevail. 
We recommend for laser owners to follow the governing standard in their country, state, and/or city to assure regulatory compliance and to provide the necessary safety programs to protect their employees and property.
Laser Safety Resources
Laser Institute of America
The Laser Institute of America is a professional society that promotes laser safety and education by offering technical conferences, workshops, publications, and training to industrial, medical, research, and government communities. You can purchase the standards referenced above from their site.
Center for Devices and Radiological Health
Center for Devices and Radiological Health (CDRH) regulates firms who manufacture, repackage, re-label, and/or import lasers (and medical devices) sold in the United States. An overview of laws and regulations for radiation-emitting products is provided on the web site.
Laser Safety Awareness Video (33:58)
---
Students:

After viewing the laser safety awareness video, you must successfully complete the laser safety quiz prior to attending any of Coherent's laser training programs.
Important Notes:
These videos are intended as a guide to laser safety and ESD awareness and must be viewed in their entirety. 
These videos are not a substitute for company-specific laser safety and ESD training.