Ein Schulungsangebot, das für Sie konzipiert wurde
Unsere branchenführende Schulungsgruppe bietet Hunderte von Schulungskursen für alle Benutzerebenen an, die sich an Service-, Support-, Benutzer- und Wartungspersonal richten. Die Schulungsangebote von Coherent werden in Einrichtungen auf der ganzen Welt oder in Ihrem Unternehmen angeboten und helfen Ihnen, den Wert Ihrer Coherent-Laserprodukte zu maximieren.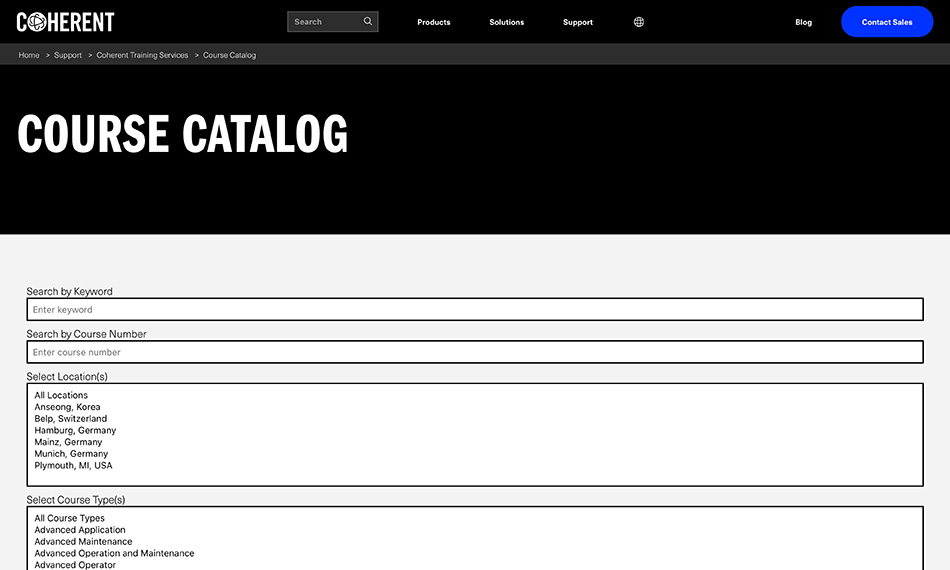 Maximieren Sie den Produktwert durch Coherent Schulungen
Laser sind komplexe Instrumente, die für bestimmte Anwendungsfälle hoch spezialisiert sind. Coherent Schulungen stehen allen Kunden zur Verfügung und sollen dabei helfen, eine optimale Laserleistung zu gewährleisten sowie die Produktlebensdauer zu verlängern.
In unserem Schulungsprogramm bieten wir einen umfangreichen Lehrplan an, einschließlich maßgeschneiderter Kurse, die auf Ihre speziellen Anforderungen zugeschnitten sind – vorbeugende Wartung, Prozessoptimierung, Anwendungsentwicklung und vieles mehr. Darüber hinaus bietet unser Schulungsteam Ihnen und Ihrer Organisation Unterstützung, um Schulungsprogramme zu erstellen, die auf Ihre individuellen Anforderungen zugeschnitten sind.
Teilnehmende, die eine Laserschulung erfolgreich abschließen, erwerben fachliches Wissen und entsprechende Fähigkeiten und sind in der Lage ein Lasersystem effektiv und effizient zu betreiben, zu optimieren und zu warten.
Coherent Schulungen sind für Bestandskunden verfügbar, die bestellte Produkte bereits erhalten haben. Da es sich bei den Schulungen jedoch um praktische Übungen handelt, bieten wir keine Schulungen für Kunden an, die noch keine Produkte erhalten haben oder verwenden.
Ausbilder
Lernen Sie von Experten die über Fachwissen verfügen, das sie durch formale Studien und praktische Erfahrung an Standorten erworben haben. Unsere Ausbilder haben Erfahrung in der Herstellung, im technischen Support und in der Produktentwicklung. Jeder Kursleiter schafft ein professionelles und angenehmes Umfeld, das nachweislich wertvolle Erfahrungen für die Teilnehmenden bietet.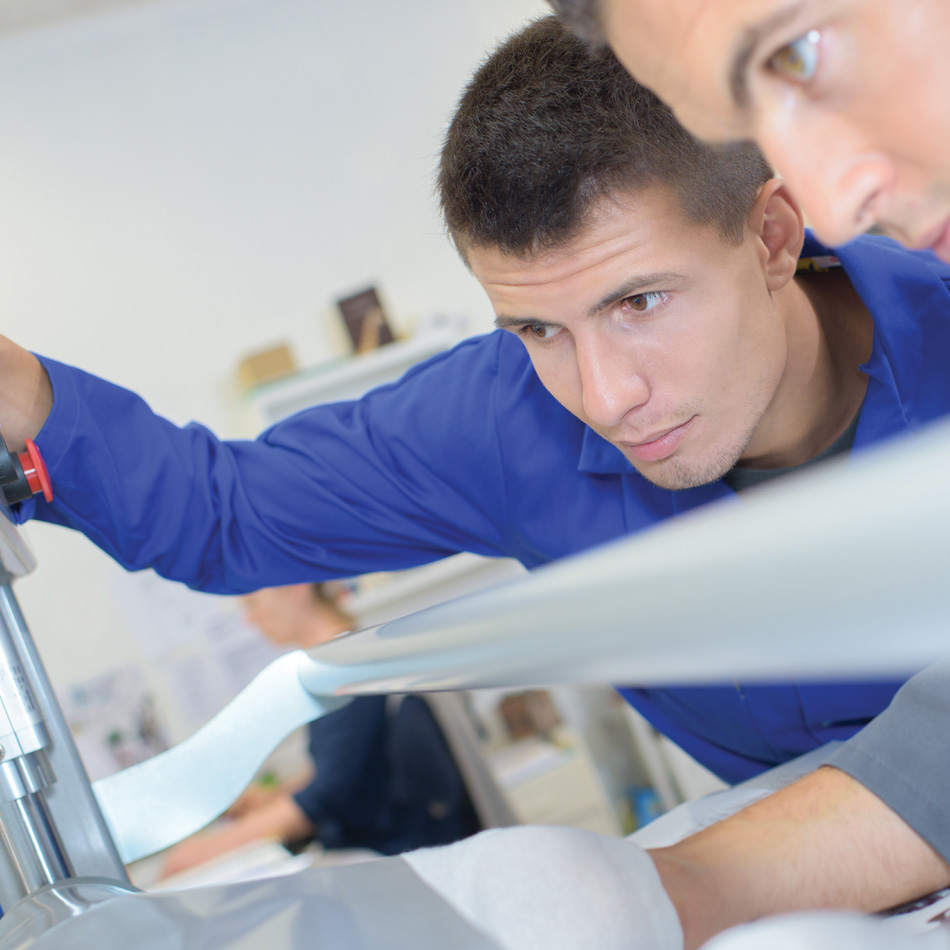 Kursmerkmale
Wir haben unsere Schulungskurse auf der Grundlage von Erfahrungen aus der Praxis und dem Feedback von jährlich Tausenden von Kunden- und Produktinteraktionen entwickelt. Zu den wichtigsten Merkmalen und Vorteilen des Laserschulungsprogramms von Coherent gehören:
Ein umfassender Überblicks über die Komponenten und Funktionen des Lasersystems.
Schnelleres Diagnostizieren häufiger Probleme, damit Sie die Ausfallzeiten minimieren können.
Maximierung und Aufrechterhaltung der maximalen Leistung Ihrer Systeme.
Steigern Sie Betriebszeit und Auslastung
Angebot standardisierter Kurse, die ein bestimmtes Thema mit formaler Ausbildung und praktischer Erfahrung optimal abdecken.
Maßgeschneiderte Kurse für Sie und Ihr Unternehmen, die in einer Schulungseinrichtung von Coherent oder an Ihrem Standort angeboten werden.
Ein vertrauensvolles Verhältnis auf Augenhöhe zwischen Teilnehmenden und Ausbildern und die Schaffung von Möglichkeiten für individuelle Betreuung und praktische Erfahrung mit Lasersystemen.
Schaffung einer sicheren Lernumgebung für alle Teilnehmenden, wobei der Schwerpunkt auf der Lasersicherheit liegt.
Lernen von professionellen Ausbildern mit praktischer, branchenbezogener Erfahrung.
Nutzen moderner, speziell eingerichteter Schulungslabors für eine werksseitig geschulte Erfahrung.
Erhalt praktischer Laborzeit und formaler Vorlesungen während des theoretischen Teils der Kurse.
Alle Kursmaterialien sind in den Kursgebühren enthalten.
Branchenweit anerkannte offizielle Zertifizierung nach Abschluss.
Voraussetzungen
Angemeldete Teilnehmende müssen Zugang zu dem Laserprodukt oder -system haben, das im Mittelpunkt des Kurses steht, für den die Anmeldung erfolgt ist.
Die Kurse werden, mit wenigen Ausnahmen, auf Englisch abgehalten. Coherent hat ein Schulungsprogramm in Deutschland, das deutschsprachige Teilnehmer erfordert. Kenntnisse im Lesen von Schaltplänen und/oder Blockdiagrammen sind ebenfalls sehr hilfreich.
Ein Fragebogen muss mindestens zwei Wochen vor Kursbeginn ausgefüllt und an Coherent zurückgeschickt werden.
Kursteilnehmende müssen die von Coherent angebotene Online-Schulung zur Lasersicherheit absolvieren und das anschließende Quiz bestehen, bevor sie an einer Schulung teilnehmen können.
Für Schulungen vor Ort müssen ein für das Kursthema geeignetes Lasersystem und ein geeigneter Schulungsraum für die Dauer der Schulung zur Verfügung gestellt werden.
Ausbildung in Göttingen und Hamburg: Teilnehmende aus Deutschland benötigen eine EFK-Qualifikation und alle anderen eine Qualifikation in Elektronik.
Lasersicherheitsstandards für Laserinhaber
Inhaber von Lasern haben die grundsätzliche Verantwortung, den sicheren Einsatz von Lasern in ihrer Betriebsstätte zu gewährleisten und den sicheren Gebrauch durch die Mitarbeiter sicherzustellen sowie Sicherheitsmaßnahmen zur angemessenen Kontrolle der mit der Lasernutzung verbundenen Gefahren zu implementieren. 
In den Vereinigten Staaten gelten die anerkannten Richtlinien der Reihe ANSI Z136, "The Safe Use of Lasers". Darüber hinaus hat die US-Bundesbehörde OSHA (Occupational Health & Safety Administration) die Standards der ANSI-Reihe als maßgebliche Vorschrift für die Lasersicherheit am Arbeitsplatz übernommen. Darüber hinaus können Aspekte des Einsatzes von Lasern auch auf Landes- und Kommunalebene geregelt werden.
Außerhalb der Vereinigten Staaten gelten internationale Standards wie die Reihe IEC 60825, "Safety of Laser Products". 
Wir empfehlen Laserinhabern, die geltenden Standards in ihrem Land, Bundesland und/oder ihrer Stadt zu befolgen, um die Einhaltung der Vorschriften zu gewährleisten und die erforderlichen Sicherheitsprogramme zum Schutz ihrer Mitarbeiter und ihres Eigentums bereitzustellen.
Ressourcen zur Lasersicherheit
Laser Institute of America
Das Laser Institute of America ist eine sachkundige Gesellschaft, welche sich der Sicherheit und dem Wissen rund um das Thema Laser durch ein Angebot an technischen Tagungen, Workshops, Veröffentlichungen und Schulungen für Industrie, Medizin, Forschung und Regierung verschrieben hat. Die oben genannten Richtlinien können Sie auf der Website des Instituts erwerben.
Center for Devices and Radiological Health
In den USA werden Unternehmen, die Laser (und medizinische Geräte) herstellen, neu verpacken, neu kennzeichnen und/oder importieren durch das Center for Devices and Radiological Health (CDRH) reguliert. Eine Übersicht zu den geltenden Gesetzen und Verordnungen für strahlungsemittierende Produkte wird auf der Website bereitgestellt.
Schulungsvideo zur Lasersicherheit (33:58)
---
Studierende:

Nach dem Ansehen des Lasersicherheitsvideos müssen Sie den Lasersicherheitstest bestehen, bevor Sie an jeglichen Schulungsprogrammen zu Lasern von Coherent teilnehmen können.
Wichtige Hinweise:
Diese Videos dienen als Anleitung zur Einhaltung der Lasersicherheit sowie ESD und müssen vollständig angesehen werden. 
Diese Videos sind kein Ersatz für unternehmensspezifische Lasersicherheits- und ESD-Schulungen.