10/03/2023
For Immediate Release
Coherent Wins ECOC 2023 Award for Most Innovative Product With 200G PAM4 Mach-Zehnder Modulated Semiconductor Laser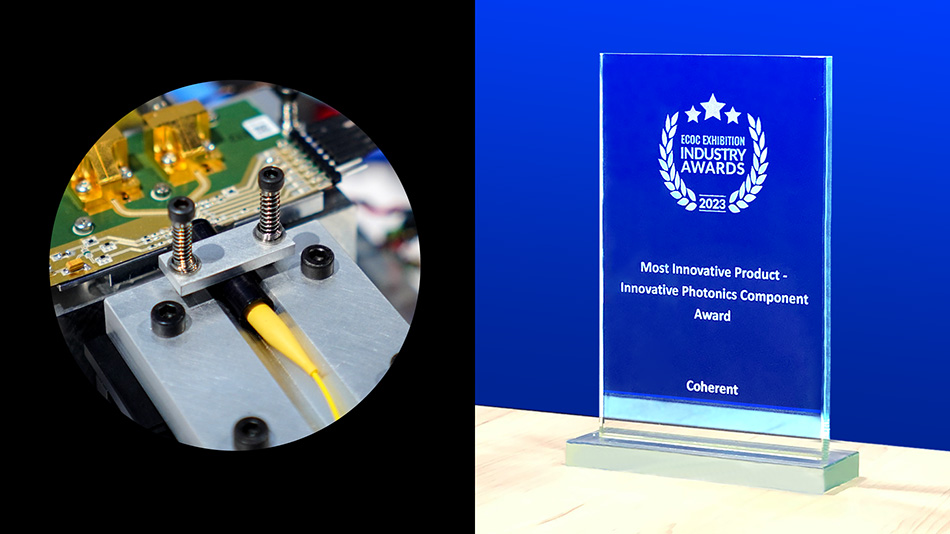 PITTSBURGH, Oct. 3, 2023 (GLOBE NEWSWIRE) – Coherent Corp. (NYSE: COHR), a leader in optical communications components and subsystems, today announced that its 200G four-level pulse amplitude modulation (PAM4) distributed-feedback laser and Mach-Zehnder modulator (DFB-MZ), combined monolithically in a photonic integrated circuit (PIC), has won the 2023 ECOC Exhibition Industry Award for Most Innovative Product in the category of Innovative Photonics Component.
This PIC enables 200G per lane in both retimed and linear pluggable 800G and 1.6T transceivers. The 200G PAM4 DFB-MZ was first demonstrated at OFC 2023 in March. Coherent is again showing a live demonstration of the 200G PAM4 DFB-MZ at ECOC 2023, this week in Glasgow, Scotland, Stand #406. This live demonstration showcases the DFB-MZ that transmits a 200G PAM4 signal over a 6 km fiber.
"We are very proud to receive this award for the DFB-MZ, which to our knowledge we were the first to demonstrate in March 2023," said Dr. Sanjai Parthasarathi, Chief Marketing Officer. "We have combined into one PIC the functional elements and integration experience of several of our most advanced devices, which are each breakthrough innovations on their own. This PIC incorporates our knowledge from electroabsorption-modulated lasers, IQ modulators for coherent applications, and tunable lasers with Mach-Zehnder modulators. It will enable higher-performance, longer-reach PAM4 optical links." 
The DFB-MZ features a channel-specific chirp control that provides excellent dispersion management. The DFB-MZ supports wavelength division multiplexing (WDM), including local area network (LWDM) and coarse (CWDM) wavelength plans. A cooled DFB-MZ supports LWDM for reach up to 10 km. An uncooled DFB-MZ supports CWDM for shorter reaches.