---
基于激光器的成套系统,适用于对各种材料进行打标和内雕。将激光器与聚焦/扫描光学部件和软件集成在一起。
PowerLine 系列激光器是系统集成商和终端用户生产线上的理想之选,利用灵活的软件,可直接执行复杂的任务,例如在曲面上进行 3D 打标、动态打标、内雕和序列打标。
---
PowerLine 激光打标系统 – 一些关键特性
从全面的产品组合中选择,包括 1064 nm、532 nm 和 355 nm 波长和 USP 激光器,以及专门的光束传输和扫描选项。
Product Specifications
| | | | | |
| --- | --- | --- | --- | --- |
| Model Name | Laser Type | Main Features | Target Materials | Typical Applications |
| PowerLine C | CO2 | Economical, Versatile | Most Non-Metals | Engraving glass, organics, and natural materials. |
| PowerLine E 8 QT | High Power (6 W) UV | High Speed, High Contrast | Plastics | Marking of organics by bleaching. |
| PowerLine E Series | Solid State (IR, Green or UV) | High-Quality Marks | Diverse, Laser Dependent | Semiconductor device marking, marking of organics by foaming, day & night, and grayscale marking. |
| PowerLine E Twin | Solid State (IR, Green or UV) | High-Quality, Very High Speed | Organics | Serialization marking of semiconductor devices. |
| PowerLine F Series | Air-Cooled Fiber Laser (IR and Green) | Unique Performance | Metals, Plastics | Engraving/marking of metals, marking of lead frames, ear tag marking, marking of organics by carbonization. |
| PowerLine F Dual Head | Air-cooled Fiber Laser IR | High-Throughput, Cost-Effective | Metals, Plastics | Lead frames, IC strips, JEDEC trays, carbonization marks. |
| PowerLine F Twin | Air-Cooled Fiber Laser (IR and Green) | Very High Speed, Simultaneous Asynchronous | Metals, Plastics | IC strips, serialization marks, larger objects. |
| PowerLine Prime | Solid State IR | Compact, Air-Cooled | Plastics | General marking in low or medium volume production. |
| PowerLine Rapid NX | USP IR | Laser Black Marking | Steel, Titanium, Aluminum | Laser black marking. |
How to Get 2X Faster Laser Marking of Larger Fields
The Coherent PowerLine F Twin combines two lasers as a larger/faster marker with a single user interface. This simple and economical laser marker doubles the throughput for plastic and metal applications, including label marking and kiss-cutting, semiconductors, and serialization of trays of parts.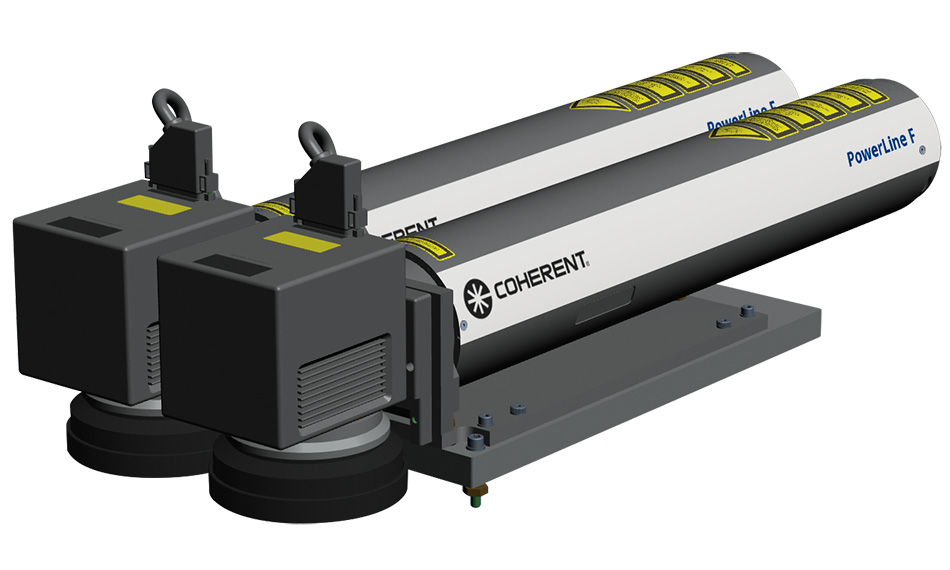 Video Spotlight
Marking On-The-Fly Delivers Accurate Laser Marks on Moving Parts
Marking on-the-fly technology from Coherent simplifies the task for marking parts on high-volume production lines without any time penalty for stopped motion. It is an ideal solution for marking high volumes of small parts including electronic components, medical devices, consumer products, and other mass-produced devices. Available with all Coherent PowerLine laser markers, it is well-suited to serial marking with indexed part numbers and provides the accuracy and precision to support marking functional scales and other fiducials.