Laser Machines and Systems
StarFiber Series for Welding and Cutting
---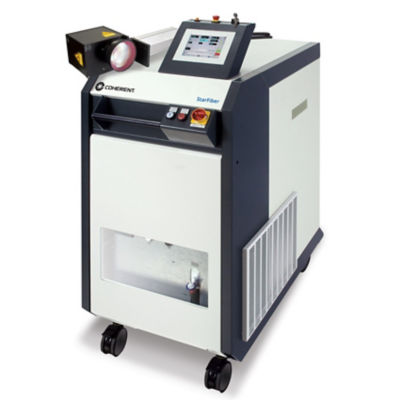 Compact fiber lasers with optional focusing heads for welding or cutting that include the unique SmartWeld™ technology for superior fine and wide welds.
The StarFiber series is designed for easy integration into existing production lines. The combination of high beam quality and SmartWeld supports very small seam geometries at high welding speeds. Fine Cutting head option delivers superior edge quality. 
---
StarFiber – Key Options and Parameters
Models 400-600 have adjustable emission times from 500 ns to CW, for different welding/cutting applications. P models are Q-switched lasers with high piercing power.
Product Specifications
Model Name

Max. Output Power (W)

Peak Pulsed Power (kW)

Mode Quality

SmartWeld Option

Scanning or Fixed Welding Optics Option

StarFiber 400 

400 

N/A 

Single-Mode 

✔ 

Fixed 

 

Scanning 

StarFiber 600

600

N/A 

Single-Mode 

✔ 

Fixed 

 

Scanning 

StarFiber 150 P

150

1.5

Single-Mode 

✔ 

Fixed 

 

Scanning 

Multi-Mode 

 

Fixed or Scanning 

StarFiber 300 P 

300

3.0

Multi-Mode 

 

Fixed or Scanning