Automated Laser Welding Increases Yields in MDM
Flexible options from Coherent maximize the cost-effectiveness of machine automation.
August 17, 2023 by Coherent
Skilled personnel are not only costly to hire and train, they're also increasingly hard to find and retain in the current labor market. Automated laser welding systems greatly reduce the need for skilled personnel. For example, once an engineer or technician has specified and stored all the various aspects of a welding application using the machine's software, the operator can safely initiate the process via restricted access through the GUI. 
Eliminating operator subjectivity combined with the use of in situ vision, process monitoring, laser monitoring, and post-process verification, provides reliable production with higher yields, and reduced scrap. As soon as any part of the process drifts towards specified limits, the machine makes the necessary adjustments or halts the process and alerts the operator. This is obviously a benefit in any application. But it is particularly advantageous when welding parts where value has already been invested by upstream processing, or for parts involving high-value materials.
The "bottom line" benefit of all of this is literally the bottom line. Every one of these automation advantages contributes directly or indirectly to a lower total cost per part.
Automated Features and Benefits
Let us now take you through a few key aspects that can be critical components of an overall automated solution.
Automated part load/unload – comes with a variety of in-feed options including hoppers, conveyers, or tray loaders interfacing with robots that move the part in and out of the system.  Automation significantly reduces labor costs, and the effect of labor on quality.  In some cases the pick and place robots can also be utilized for process motion, typically used with a 3D vision system. This automated weld positioning delivers additional cost efficiencies.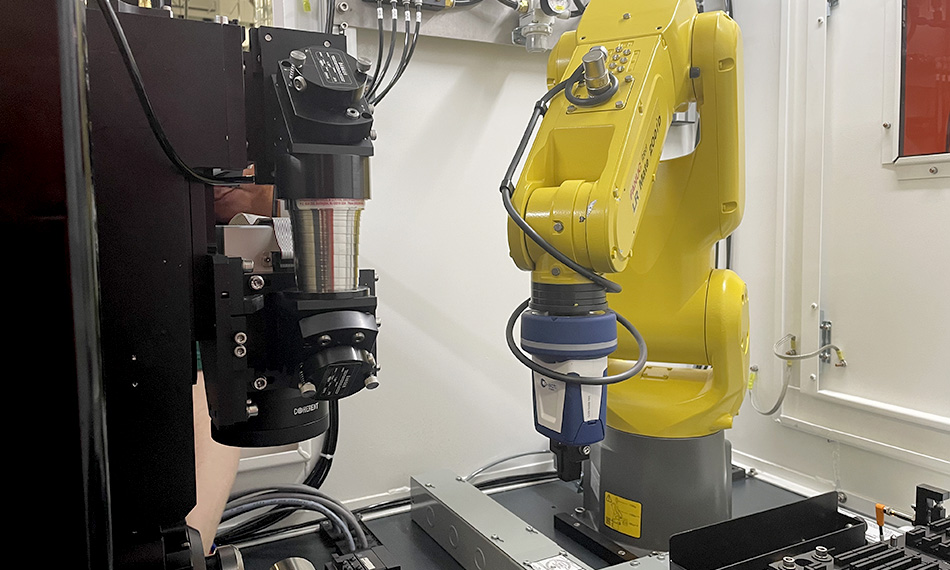 Figure 1. Automation solutions help move the part in and out of the system and reduce labor costs.
Pre-Process Vision – enables correct part confirmation and positioning every time for every weld. This pre-weld process can also provide go/no go based on part fit-up. In a manual process, the operator puts parts in a fixture setup and then clamps them securely before welding. Sometimes this mundane task can be accelerated by using a rotating table for simultaneous welding and loading/unloading. But in an automated system, a machine vision system can look at parts individually: in a hopper, on a conveyor belt, and/or in trays. It can identify unique physical details and fiducials and/or barcodes or other swipe checks. 
Figure 2. Coherent PartVision enables correct part confirmation and positioning for every weld.
In-process monitoring – provides an alert for process variations, and the opportunity to plan preventative maintenance for process drift or stop production before bad parts are assembled. Rather than rely on third-party solutions Coherent has developed an in-house system, Coherent SmartSense+, designed specifically for micro-welding that provides an economical and comprehensive in-process capability. A major component of SmartSense+ is a unique optical system that captures and analyzes back-reflected laser light, plus light emitted by the process itself. It can also include acoustic and other signals. This data can be used to determine whether the welding process actually occurred or not, to monitor the horizontal and vertical part gap width, and to detect changes in process and shield gas flow rates where gas is used. It can also assess the welds for any holes, voids, and microcracks.
One additional bonus of our in-process monitor is using the signals to optimize the weld schedule, for example, when is the plasma formed, when is the weld unstable, and tying these into laser and optical parameters.  Our application engineers have proven this capability very useful on many occasions, even for users with decades of welding experience!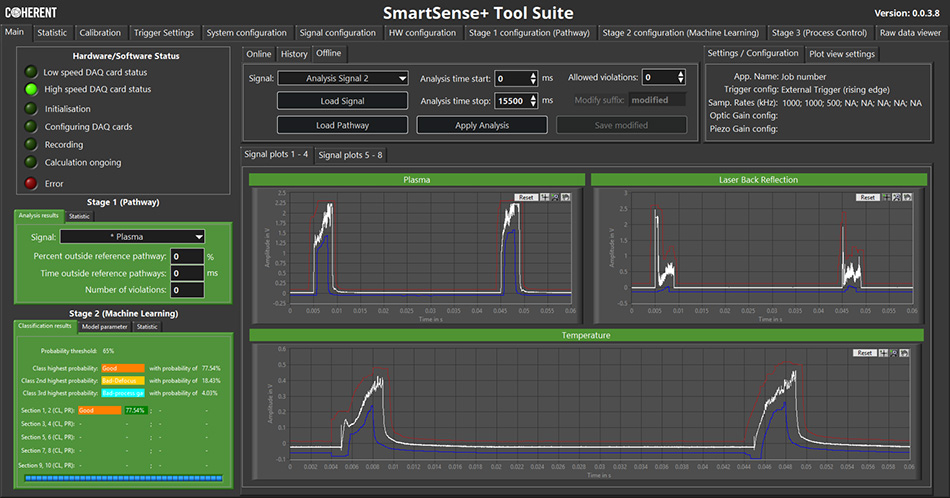 Figure 3. Using proprietary algorithms, the sensor signals can be analyzed to provide OK/NOK feedback, as well as guidance on the likely weld fault; that may be out of focus, low power or energy, lack of gas shielding, contamination, and others.
Pre-, In-, and Post-Process Data Acquisition – data logging is now a cornerstone of production to understand how equipment is performing, understanding the process, and maximizing process yield.  Alerts from either the system or the process can enable action to be taken before the process drops out of the process window.  Examples can be pre-weld vision systems that alert when fit-up tolerances are exceeded, in-process monitors that indicate process drift or step changes in conditions for G/NG notification, post process vision capture of the weld that can be attached to production record data.   Our systems support all key communication protocols, and we have decades of experience interfacing and delivering such data for our customers.

Figure 4. Automated inspection and data tracking/logging eliminates the time and error risks associated with human inspection and manual data entry.
Simple, powerful control software – All this automation involves a number of different technologies and methods, which would be challenging to separately incorporate. But in a fully automated laser welding system from Coherent, every aspect of the welding is controlled under our Coherent Laser FrameWork, a next-generation software platform featuring an easy-to-use GUI and object-based process setup/execution. With restricted access features in this software, the chance that an operator will forget to invoke or initiate any of the automation or data logging features is completely eliminated.
Cost-Effective Solutions
Automated laser welding systems can lower your costs in many MDM applications. But it shouldn't unduly increase your capital investments costs. Specifically, there is no value in buying features your application doesn't really need. That's why Coherent offers flexibility featuring multiple options, from the in-feed options to the use of RFID tag readers. We don't just provide complete systems, we deliver optimized systems - optimized for your exact needs, no more no less. 
Learn more about Coherent solutions for MDM.