Laser Components and Accessories
Fiber Optic Cables
---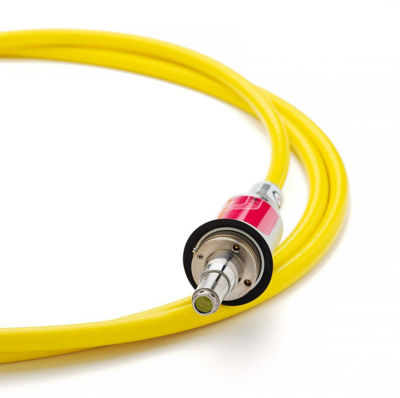 Get reliable, low loss cables for delivering multi-kW laser beams over long distances — they're rugged enough to perform consistently, even in harsh environments.
These cables combine end cap, mode stripper, and water cooling to enable low loss transmission of high laser power levels for extended periods with stability and reliability. There are numerous configuration and connector options.
---
Fiber Optic Cables Key Parameters
Select from standard QBH, QD, or RQB connectors, plus a wide range of AR coating, length, and even core shape options, to get the exact delivery fiber you require.

Product Specifications
 

Connector Type

 

QD

QBH

RQB

Maximum Power (CW)


20 kW

15 kW

 

1.5 kW

 

Wavelengths

1030-1090 nm

780-1100 nm

510-550 nm

430-480 nm

Fiber Core Dimension

≤1000 µm, round/square

Cable Length

≤200 m

Transmission Losses

< 3% (typical 1%)

Power Loss Capability


2 kW for 10 s
1 kW for 10 min
0.5 kW continuously

2 kW for 10 s
1 kW for 10 min
0.5 kW continuously

100 W for 10 s
50 W for 1 min
10 W continuously

Cooling Method

Water 

Water 

Air (passive)

Compatible Interface

Trumpf LLK-D
Highyag LLK-Auto
IPG LCA

Trumpf LLK-Q
IPG HLC-8/LC-8

Trumpf LLK-Q
IPG HLC-8/LC-8