06/13/2023
For Immediate Release
Coherent Introduces New
HighLight

FL-Arm Fiber Lasers for Increased Welding Process Stability Over Large Working Areas for EV Applications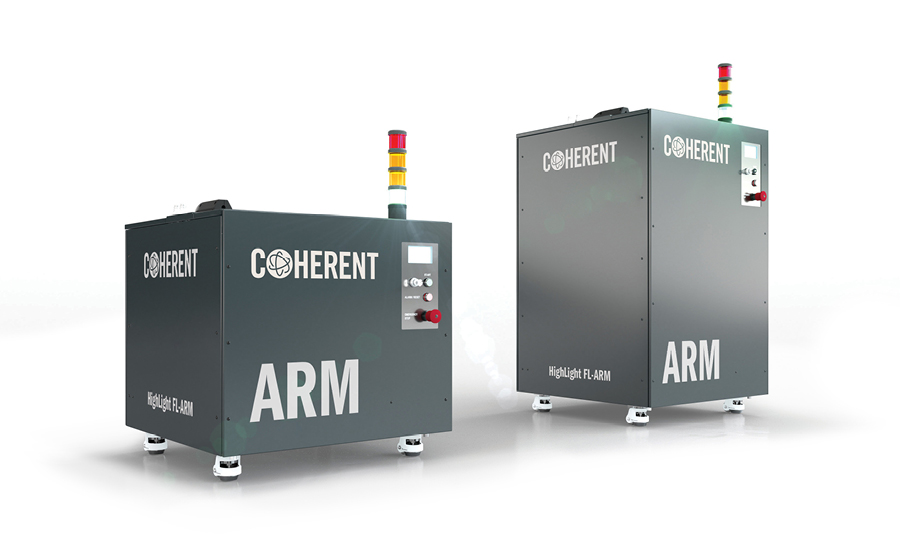 PITTSBURGH, June 13, 2023 (GLOBE NEWSWIRE) – Coherent Corp. (NYSE: COHR), a leader in industrial lasers and laser subsystems, today announced the introduction of new adjustable ring mode (ARM) lasers, part of the HighLight FL‑ARM laser series, with significantly improved beam properties. Designed to enhance the control of the welding process over large working areas, the new ARM laser targets deep welding applications that are common in battery manufacturing for electric vehicles (EVs).
The exponential growth of the EV market is driving the demand for laser welding that can accelerate the throughput of battery production while maintaining the quality requirements of the automotive industry. The new HighLight FL-ARM lasers from Coherent feature longer collimated beam lengths and smaller spot sizes that enable high-quality deep welds with greater uniformity over large working areas. Combined with the high degree of weld control that the adjustable center and outer ring mode beams provide, the new ARM lasers can complete deep welding tasks with higher speed, resulting in lower cost of ownership.
"The improved laser beam characteristics are ideal for use cases such as thick busbars and motor stator hairpins that require deep welds. Customers can get the job done a lot faster while consistently achieving high-quality welds," said Dr. Karlheinz Gulden, Senior Vice President, Laser Components and Subsystems Business Unit. "Recently, we announced our new HIGHmotion 2D processing heads, which are also optimized for smaller beam sizes and wide working areas. While the combination of ARM lasers with HIGHmotion 2D processing heads has already proven to be very successful for EV battery manufacturing, they now complement each other perfectly for deep weld applications."
Coherent recently introduced improvements on two processing heads, the HIGHmotion 2D and the PH20 SmartWeld+, both of which work seamlessly with HighLight FL-ARM lasers. The HIGHmotion 2D is ideally suited to applications where the beam is quickly moved about a stationary workpiece to complete multiple welding tasks. The PH20 SmartWeld+ is ideal for longer weld seams or weld layouts of individual battery cells. Both employ a detachable fiber delivery system with 100 µm inner diameter and 290 µm outer diameter to connect to the ARM laser.
The HighLight FL-ARM laser features two individually controllable co-axial beams from a single fiber, with up to 2.5 kW in the center beam and 7.5 kW in the outer ring. These features, patented by several patents, including the US 10807190 patent family, enable power levels in both the central spot and the surrounding ring to be independently adjustable. This results in high-speed and high-throughput spatter-free processing and lowers overall production costs by largely eliminating the need for post-processing.
Coherent supports its customers through customized service agreements that are backed by a global service network staffed with factory-trained service engineers. Through Coherent Labs, Coherent collaborates with its customers to anticipate and solve their most difficult manufacturing challenges.
Coherent will exhibit at Laser World of Photonics, in Munich, Germany, June 27-30, stand B3.321; Laser Korea, in Seoul, July 5-7, stand 4101; and Laser World of Photonics China, in Shanghai, stand 8.1D240, July 11-13. At these conferences, Coherent will showcase the most recent additions to its broad portfolio of differentiated solutions for materials processing.