09/28/2023
For Immediate Release
Coherent Unveils Industry's First 140
GBaud

Optical Subassembly to Enable 800G in Ultracompact Pluggable Form Factors for Optical Communications Networks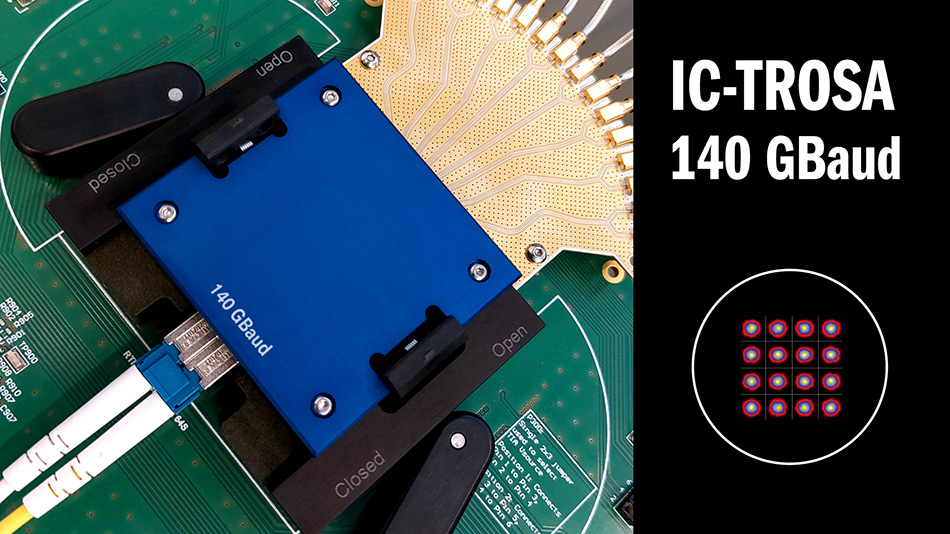 The 140 GBaud IC-TROSA from Coherent and the Orion coherent DSP from Marvell were successfully combined to transmit 800 Gbps
PITTSBURGH, Sept. 28, 2023 (GLOBE NEWSWIRE) – Coherent Corp. (NYSE: COHR), a leader in networking technology, today announced the introduction of its 140 GBaud integrated coherent transmitter-receiver optical subassembly (IC-TROSA), the industry's first to enable 800G QSFP-DD and OSFP digital coherent optics (DCO) pluggable transceivers for high-speed datacenter interconnects and metro networks.
Artificial intelligence and machine learning (AI/ML) applications are accelerating the exponential growth of datacenter traffic in cloud networks, driving the demand for efficient bandwidth upgrades in datacenter interconnects and optical transport networks. The 140 GBaud IC‑TROSA from Coherent is the industry's first to enable 800 Gbps ZR/OpenZR+ transmission in datacenter interconnects and metro communications networks in the ultra-dense QSFP-DD and OSFP pluggable form factors. The IC‑TROSA is a highly integrated coherent optics subassembly with embedded optical amplification that can deliver high transmitter output power with low power dissipation, enabling DCO modules that can plug directly into routers. This solution lowers the total cost of network ownership for hyperscalers and service providers by eliminating an entire layer of transponder equipment.
"This 140 GBaud IC-TROSA follows the 64 GBaud IC-TROSA introduced in March 2020, which was also an industry first," said Matthias Berger, Vice President, Coherent Technology, at Coherent Corp. "We continue to advance the state of the art of optical transmission in core networks by leveraging the inherent capabilities of our indium phosphide technology platform. Indium phosphide photonic integrated circuits are differentiated by their high output power, which enables disruptive use cases such as IP-over-DWDM in metro networks."
Coherent's IC-TROSA was combined with the Orion digital signal processor (DSP) from Marvell to successfully demonstrate the performance capabilities of a complete transceiver solution for 800 Gbps transmission.
"Marvell's close collaboration with Coherent has enabled us to showcase the power of the combination of technologies from two leading companies," said Samuel Liu, Sr. Director, Product Line Management, Coherent DSP at Marvell. "Together, the 140 GBaud IC-TROSA and the Orion coherent DSP enable pluggable transceivers for 800 Gbps with more than 500 km reach, allowing datacenter interconnects to scale network capacity quickly and economically so as to accommodate the surging traffic from AI/ML and other distributed, data-intensive workloads."
The 140 GBaud IC-TROSA is a complete coherent optical engine that includes a wavelength-tunable laser, optical amplifiers, modulators, drivers, a coherent mixer, a photodiode array, and transimpedance amplifiers. It features an embedded microcontroller, DAC/ADCs, and a simple digital communication interface for all control and monitoring. The module supports symbol rates of up to 140 GBaud and multiple modulation formats, including QPSK, 8QAM, 16QAM, 32QAM, and 64QAM. It is designed to meet the requirements of the OIF IC-TROSA Implementation Agreement (Type-2 version). Alpha samples of the 140 GBaud IC-TROSA are available now and the product will be generally available in mid-2024.
Coherent will exhibit at ECOC 2023 in Glasgow, Scotland, Oct. 2-4, Stand #406. At the conference, Coherent will showcase the most recent additions to its broad portfolio of differentiated solutions for telecom and datacom optical networks.