Introducing Sapphire SF NX
The Coherent Sapphire family of optically pumped semiconductor lasers (OPSL) is expanding to offer extremely stable single-frequency outputs at 488 nm and 532 nm.
October 17, 2023 by Coherent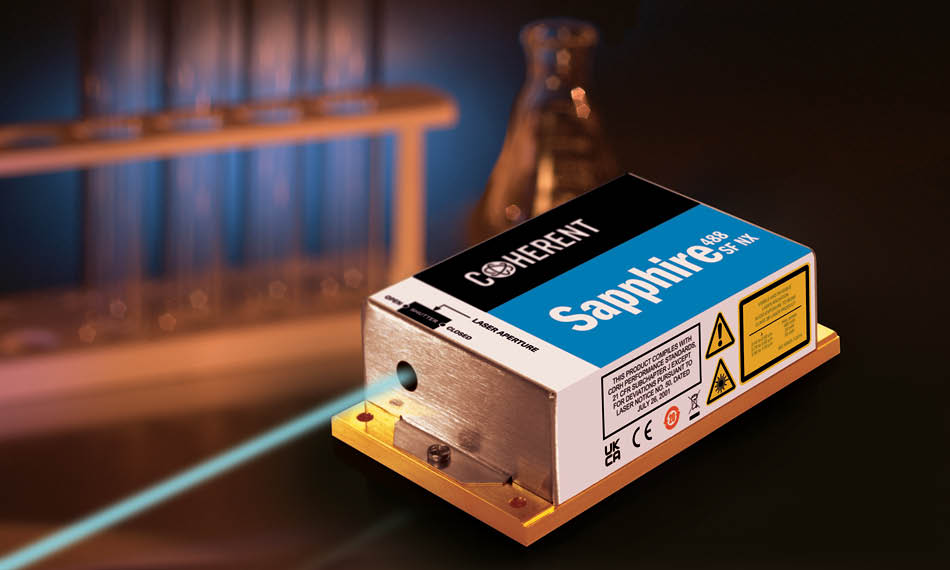 How do you make a gem even better? Coherent Sapphire™ compact CW visible lasers are now available as several ultra-narrow linewidth models at two popular wavelengths: 488 nm and 532 nm.  
Featuring single longitudinal mode operation, Coherent Sapphire SF NX lasers deliver output with an ultra-narrow linewidth of < 1.5 MHz, a critically enabling advantage in applications such as interferometric testing and metrology (e.g., wafer inspection), Raman spectroscopy, quantum sensing, Brillouin scattering, holography/shearography, and remote optical sensing. 
Sapphire SF NX lasers are configured for both OEM and end-user applications, with available output powers ranging from 20 mW up to 150 mW at 488 nm and 200 mW at 532 nm.
Designed for thermal stability
Sapphire SF NX lasers rely on a patented method to confine the laser action to a single cavity mode and completely avoid mode hops: abrupt jumps in output frequency that can otherwise ruin data. This relies on a laser cavity that is designed to be very thermally stable. A feedback loop then actively controls the frequency filtering optics in response to any minor thermal drifts that might occur. The result is an output that is guaranteed to stay free of mode hops even as the surrounding temperature changes, in contrast to traditional mode filtering mechanisms that are susceptible to occasional thermally induced mode hops.
Sapphire SF NX lasers are available with a choice of free-space or fiber-pigtailed output. They are identical in form fit and function to existing Sapphire LP models, simplifying integration and/or upgrade to this new performance level.  Their output also offers several other important performance advantages: a high-quality, diffraction-limited beam (TEM00, M²<1.1) with excellent pointing stability (< 5 µrad/°C) and high-power stability (< 2%).
Like other Sapphire lasers, the Sapphire SF NX models also feature inherently low output noise: < 0.25% rms from 20 Hz to 2 MHz. Based on optically pumped semiconductor laser (OPSL) technology, the short upper-state lifetime eliminates the mode noise typically found in diode-pumped solid-state (DPSS) lasers. 

Figure 2. The output of Sapphire SF NX lasers is very stable. Even long-term drifts in absolute wavelength are incredibly small.
Tested and reliable

 Our new Sapphire lasers offer the field-proven maturity of our OPSL technology; in fact, we have shipped more than 150,000 OPSL units.
Additionally, every laser receives a 100% screening. That means every unit is tested for at least 40 hours during which specified performance parameters are re-measured prior to shipping.  Most units can exceed a best-in-class 20,000 hours of operating time in the field. 
Highest-value single-frequency laser
Bottom line: The Coherent Sapphire SF NX lasers offer the highest value of any lasers in their single-frequency class with a combination of low output noise, superior pointing stability, long lifetime, and complete absence of mode hops. 
Learn more about Coherent Sapphire lasers.