---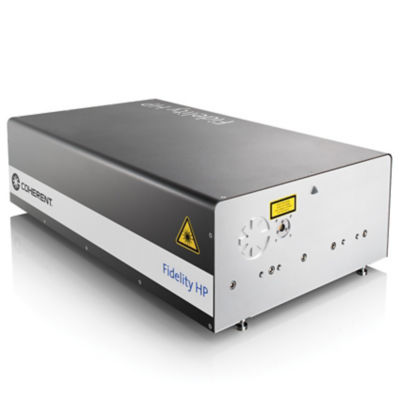 Get ultrafast fiber lasers offering an ideal combination of high average power and extremely short pulses in a easy-to-operate, maintenance-free, compact package.
Fidelity have revolutionized fs applications with their rugged simplicity. The Fidelity-2 provides the shortest specified pulse width from a fiber laser. The Fidelity HP provides either 10 W or 18 W of power. All models include adjustable GDD precompensation.
---
Fidelity – Key Parameters
Enjoy industrial 24/7 reliability because of the HALT design and HASS testing of all units.
Product Specifications
Model Name

Average Power (W)

Pulse Width (fs) 

Pulse Repetition Rate (MHz)

Wavelength (nm)

GDD Precompensation Range (fs2)

Dimensions (mm)

Fidelity-2

2 

<55 

70

1070 

0 to - 30,000 

318 x 318 x 147 

Fidelity 10

10 

140 

 

80 

 

 

1040 

 

0 to - 120,000 

641 x 357 x 183 

Fidelity 18

18 
Scientific Lasers | Coherent
Ultrafast Spectroscopy
Choose from an extensive portfolio of ultrafast spectroscopy lasers with the most reliable performance to maximize your data throughput.
Scientific Lasers | Coherent
Lasers for Multiphoton Excitation Microscopy
Explore the widest range of lasers for Multiphoton Excitation Microscopy, delivering brighter and deeper images.
Scientific Lasers | Coherent
Pulsed Terahertz (THz) Generation
Get pulsed lasers that generate intense, broad bandwidth THz pulses for (TDS) spectroscopy, pump and probe, and imaging.