Laser Power and Energy Meters
Measure laser power and energy with ease and precision over a huge range of wavelengths, power levels, and pulse energies.
---
Meter Choices Tackle any application including field, laboratory, and production environments.
Fast Sampling Analyze pulse shape to optimize materials processing applications.
Local Calibration Obtain calibration from labs in Europe, North America and Asia.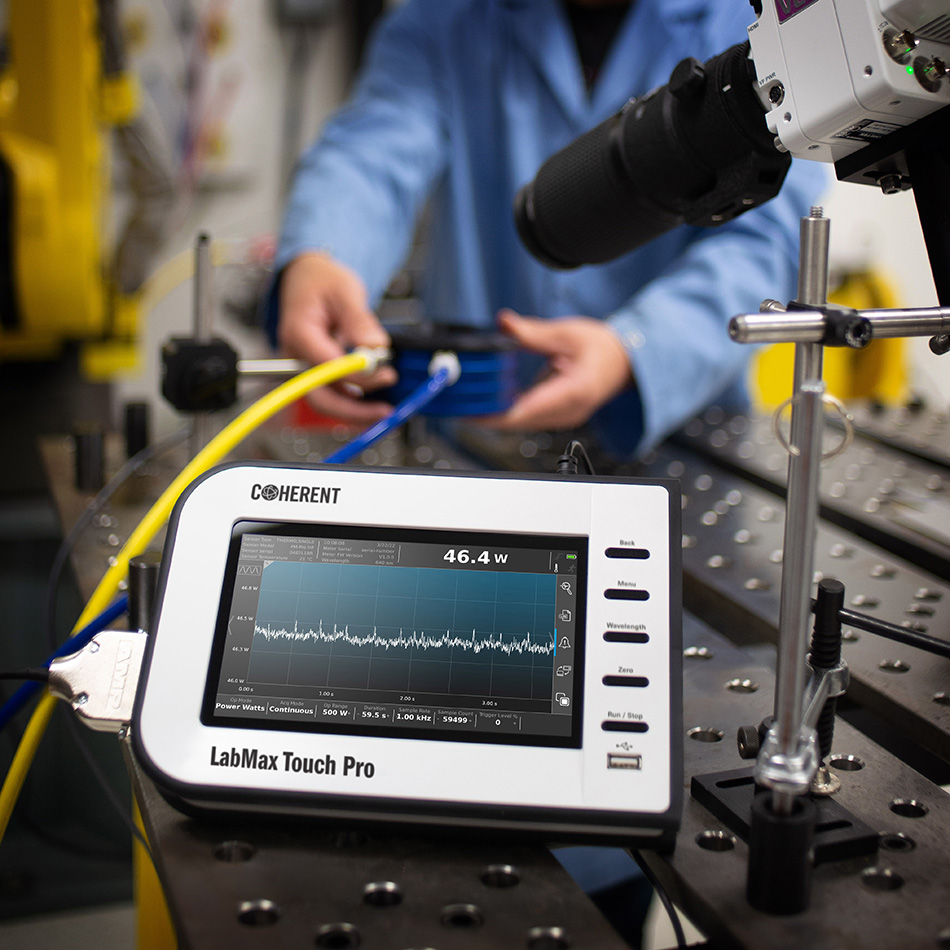 Meters to fit any need
Coherent has the right meter for you, whether you're performing high accuracy, multi-parameter data acquisition over many hours in the lab, or making a quick laser adjustment in the field.
Power & Energy Meter Product Family
 

Model


 

 

Measurement Type


 

 Sensor Compatibility

Interface Options

Display Type

A full-featured laser power and energy measurement instrument system that makes extensive data acquisition and analysis capabilities easy to access through an intuitive, touchscreen interface.

 

Power & energy

Fast thermoelectric
Thermopile
Semiconductor
Pulse Energy

Graphical Touch Screen LCD

The 'Pro' model increases sample rate to 1 MHz (with PowerMax-Pro sensors) and adds additional pulse analysis functions on top of the LabMax Touch base features.

 

Fast thermoelectric
Thermopile
Semiconductor
Pulse Energy

Graphical Touch Screen LCD

A full featured instrument with a wealth of display, interface, and data logging options, plus compatibility with virtually every Coherent sensor.

 

Power & energy

Thermopile
Semiconductor 
Pulse Energy

USB & RS-232

Graphical LCD

A portable power & energy meter that's long on features, including data logging, statistics, and compatibility with a broad range of thermopile, optical and pulse energy sensors.

 

Thermopile
Semiconductor
Pulse Energy

USB

Fixed Segment LCD

High-performance meter which uses a connected PC for instrument control and display, and can sample at 20 kHz for monitoring of modulated and long-pulse lasers.

 

Fast thermoelectric
Thermopile 
Semiconductor
Pulse Energy

USB & RS-232

—

A full featured instrument with a wealth of display, interface, and data logging options, plus compatibility with virtually every Coherent power sensor.

 

Power

USB & RS-232

Graphical LCD

A portable power meter that's long on features, including data logging, statistics, and compatibility with a broad range of thermopile and optical sensors.

 

USB

Fixed Segment LCD

Take fast, accurate laser power measurement with you wherever you go, and use the analog needle display for easy laser tuning.

 

—

Fixed Segment LCD and analog tuning needle

Handheld, economical, battery operated meter for quick and easy measurement of low power lasers.

 

—

Fixed Segment LCD