Ionenimplantation
Sanierung und Beschichtung von Ionenimplantationsplatten
Unser Sanierungs- und Beschichtungsservice sorgt für eine längere Lebensdauer, geringere Betriebskosten und eine bessere Leistung von Ionenimplantations-Werkzeugen.
Coherent verfügt über umfangreiche Kapazitäten für die Reparatur, Sanierung und Wiederherstellung aller Ionenimplantationsplatten oder Kühlkörper. Dazu gehören alle Marken und Modelle von Batch-Verarbeitungszeiten von Ionenimplantern, die seit den späten 1970er Jahren bis heute hergestellt wurden.
It All Adds Up

Our industry-leading innovations enable a 2x lifetime improvement, a 99% decrease in wafer chipping, a 50% decrease in metals contamination, an 80% decrease in fence "wear-grooving" particle generation, and a 30% average cost-of-ownership savings.

High-Performance Coatings

The Coherent low-temperature elastomer pedestal and heat sink coating increases wafer cooling, boosts productivity, and improves pad-to-pad wafer temperature uniformity.

Torlon Fence Assemblies

Utilize high wear resistance Torlon to dramatically improve fence and disk lifetime, substantially decrease wafer chipping, cut fence wear-grooving, and lower metals contamination.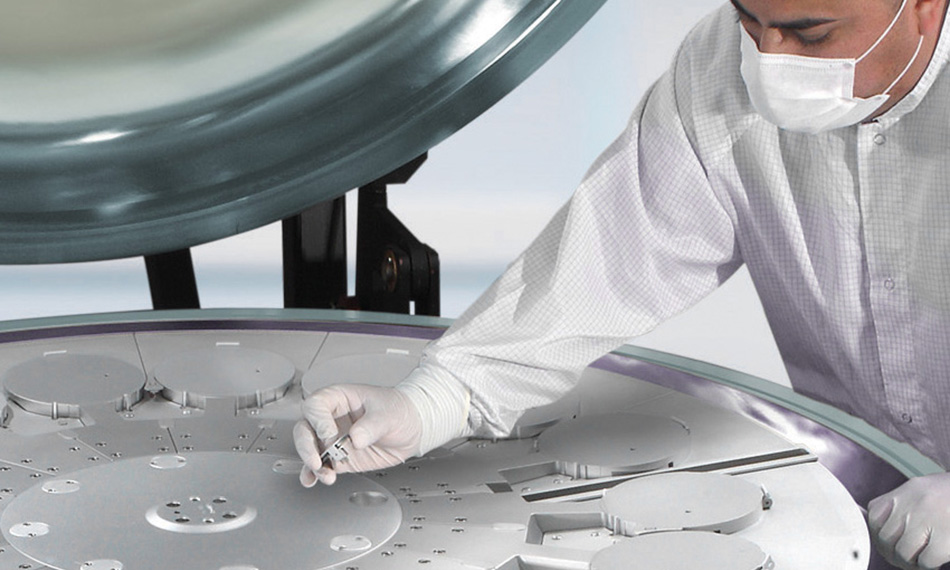 Verbessertes Anschlagdesign
Der einschraubbare Lageranschlag mit seinem hochpräzisen Design sorgt für eine längere Lebensdauer, bietet keinen asymmetrischen Anschlagverschleiß und eliminiert die Partikelfalle, die bei OEM-Komponenten mit gecrimpter Position auftritt.
Laser in der Displayherstellung: Microled Lift-Off, Übertragung und Reparatur
Coherent UVtransfer-Systeme führen drei kritische Schritte bei der Herstellung von MicroLED-Displays durch, die zu skalierbaren Displays mit beeindruckender Auflösung und Helligkeit führen.
Ausgewählte Erfolgsgeschichte
Thirty Meter Telescope International Observatory: Optiken von Coherent geben Teleskopen eine strahlende Zukunft
Coherent liefert Optiken und optische Fertigungstechnologie für eines der ehrgeizigsten Astronomieprojekte aller Zeiten – das Thirty Meter Telescope [dt.: Dreißig-Meter-Teleskop].