CO₂-Laser
Wählen Sie aus dem umfassendsten verfügbaren CO₂-Laserportfolio, um die beste Lösung für Ihr Material und Ihre Anwendung zu finden.
---
Ausfallzeiten minimieren Genießen Sie die hohe Zuverlässigkeit des Wellenleiter- und Slab Entladungsaufbaus.
Qualität verbessern Passen Sie die Wellenlänge an das Material an und wählen Sie aus vielen Pulsoptionen, um die Wärmeeinflusszone zu reduzieren.
Integration vereinfachen Beschleunigen Sie die Entwicklung mit integriertem HF-Netzteil und anderen modularen Konfigurationen.
Hochzuverlässige CO2-Laser in allen Leistungsklassen
Eine riesige Auswahl an Produkten mit Leistungen von 20 W bis 8 kW, verschiedenen Wellenlängen und gepulstem oder CW-Betrieb, die alle für hohe Zuverlässigkeit und Betriebszeit, minimale Wartungsstillstände, einfache Wartung und vereinfachte OEM-Integration ausgelegt sind.
CO₂-Laser Produktfamilie
| | | | |
| --- | --- | --- | --- |
| Die CO₂-Laser der DIAMOND C/Cx Serie bieten das beste verfügbare Leistungs-Größen-Verhältnis zum Schneiden, Schlitzen, Gravieren, Ritzen und Beschriften einer Vielzahl von Materialien. | Niedrige Leistung – 20 W bis 120 W Leistung. | Wellenlängenoptionen – 9,3 µm, 9,6 µm, 10,2 µm und 10,6 µm. | Outlive und Outlast – Advanced Ingress Protection für den Betrieb in rauen Umgebungen. |
| Die kompakten CO₂-Laser der DIAMOND J Serie kombinieren Leistung, hervorragende Strahlqualität und nahezu rechteckige Pulse für eine hohe Bearbeitungseffizienz und -geschwindigkeit. | Mittlere Leistung – 150 W bis 450 W Leistung. | Mehrere Wellenlängen – 9,4 µm, 10,2 µm und 10,6 µm. | Einfache Integration – Modulares Design mit gängigen Schnittstellen. |
| Diamond J-1000 bietet die kleinste Stellfläche aller 1 kW versiegelten, gepulsten CO₂-Laser, die zum Umwandeln, Schneiden, Gravieren und Bohren verfügbar sind. | Sparen Sie Platz – 1 kW in einem einzigen, integrierten Paket. | Zwei Wellenlängen – 9,4 µm und 10,6 µm. | Schneller Service – Vor Ort zu wartendes HF-Leistungsmodul. |
| Die DC Serie sind diffusionsgekühlte, hochstabile CO₂-Slab-Laser mit mehreren kW Leistung zum Schneiden, Schweißen und zur Oberflächenbehandlung von Metallen, Kunststoffen und organischen Stoffen. | Höchste Leistung – 1 kW bis 8 kW Leistung. | Cool bleiben – Diffusionskühlung für hohe Zuverlässigkeit und geringen Gasverbrauch. | Flexibel bleiben – Mehrere Verpackungskonfigurationen. |
| Diamond CO-Laser liefern 5 µm Leistung mit der gleichen Zuverlässigkeit, Stabilität und Strahlqualität wie herkömmliche CO₂-Laser, um neue Anwendungen zu ermöglichen. | Materialvorteile – Effiziente Verarbeitung von Kunststofffolien, Polymeren und PCBs. | Leistung hochfahren – 250 W Leistung. | Lange Lebensdauer – Versiegelte Konstruktion für hohe Zuverlässigkeit. |
Lasers Busbar Stripping Speeds EV Production
CO₂ lasers perform efficient busbar insulation stripping, and are readily integrated into the automotive manufacturing environment.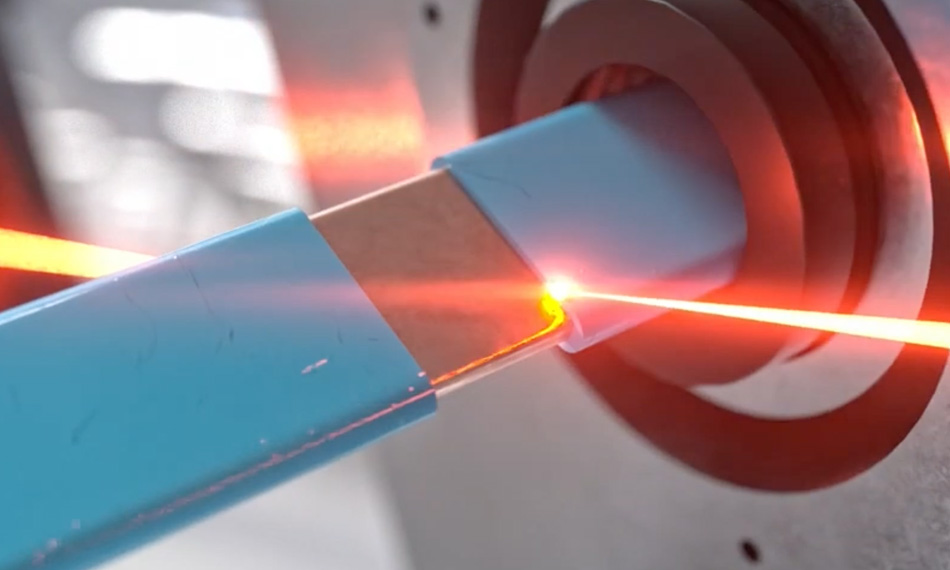 Sind Sie bereit,
um loszulegen

?
Shop Coherent
Der Online-Einkauf von Produkten wie Laser, Glasfasern, Leistungsmessgeräte, Sensoren, Zubehör und vieles mehr war bei Coherent noch nie so einfach.