Lasermaschinen und Systeme
Industrielle Bildverarbeitung
---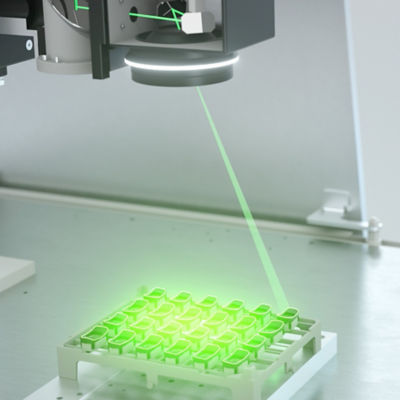 Nutzen Sie eine Vielzahl von industriellen Bildverarbeitungstools, um die Produktion zu beschleunigen, Fehler zu reduzieren und Daten zur Rückverfolgbarkeit bereitzustellen.
Die Bildverarbeitung kann die Produktivität steigern, indem sie Teile automatisch lokalisiert und die Verarbeitung entsprechend anpasst, indem sie Teilenummern, Barcodes oder Datamatrix-Daten liest und bei Bedarf reagiert, indem sie Teileinspektion und Prozessvalidierung durchführt und vieles mehr.
---
Schlüsselfähigkeiten
Nutzung von Bildverarbeitungssystemen

Die Bildverarbeitungs‑ und Mustererkennungspakete für die Lasermarkierung verfügen über verschiedene Kamera‑ und Beleuchtungsoptionen und lassen sich leicht über in Laser FrameWork integrierte Routinen steuern.

Einfaches Ausrichten des Werkstücks

Definieren Sie Ihre Bildverarbeitungsaufgabe für die manuelle oder automatische Werkstückausrichtung mit nur wenigen Mausklicks in der Rezept-Timeline.

Rückverfolgbarkeit leicht gemacht

Integrieren Sie Bildverarbeitungsaufgaben zur Dokumentation, Rückverfolgbarkeit und QC/QA-Zwecken in die Nachbearbeitung.
Video Spotlight
Embedded machine vision systems for reduced production costs
Learn how PartVision speeds up workpiece processing, reduces scrap rates, and eliminates costs for tooling with the Coherent machine vision PartVision! PartVision is integrated into the Laser FrameWork software environment of our laser systems. Adding a vision task to a process recipe, and setting parameters like search position or lighting is easier than ever. PartVision also allows you to check and document part quality after the process.
Coherent Laser FrameWork verbessert die Produktivität in der Fertigung
Eine einheitliche Laser-Softwareplattform für Schweiß‑, Schneid‑ und Beschriftungsmaschinen vereinfacht die Nutzung und verbessert den Durchsatz.