Lasermaschinen und Systeme
Intuitive Benutzererfahrung
Ein modernes und überzeugendes Benutzererlebnis für die Erstellung, Ausführung und Überwachung von Prozessrezepten, das die Produktivität der Bediener beim Laserschneiden, ‑schweißen und ‑beschriften erhöht.
Laser FrameWork steigert die Produktivität durch die schnelle Einrichtung und Ausführung von Aufträgen zur Lasermaterialbearbeitung. Laser FrameWork läuft auf ausgewählten Coherent Lasersystemen, um die Flexibilität zu maximieren und den Schulungsaufwand zu minimieren.
Key Capabilities
Drag-and-Drop Job Setup

Rapidly create new processing sequences – recipes - by combining processing, inspection, and automation steps on to a job timeline using simple drag-and-drop operations.

Easily Set Access Levels

User access levels allow production personnel to operate equipment without changing job parameters. Operators can move between machines without the need for reconfiguring workstations.

Total System Control

Control laser operation and parameters, beam steering devices, motion system components, digital cameras, and data exchange all within the environment.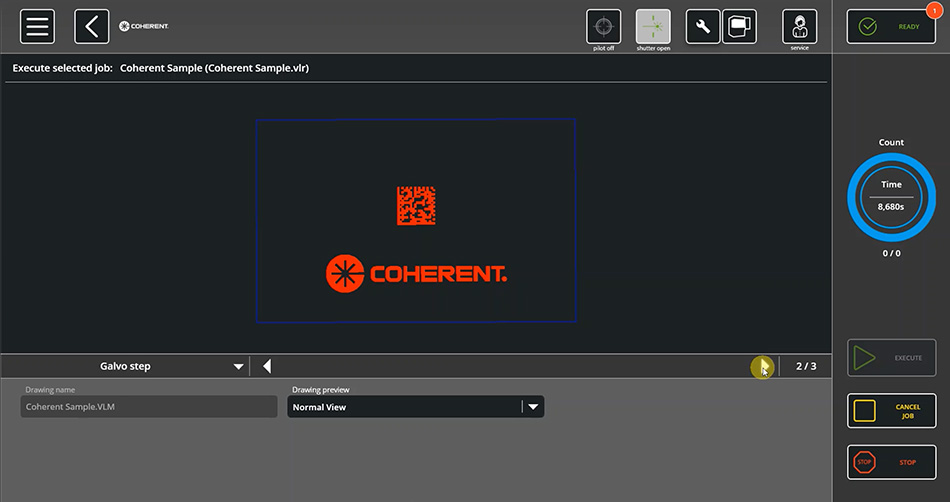 Importieren Sie Ihre Entwürfe ganz einfach
Verwenden Sie die Coherent Visual Laser Marker Software für scannerbasierte Anwendungen und importieren Sie nahtlos Beschriftungsdesigns, die zuvor auf älteren Systemen erstellt wurden.
Video Spotlight
Laser FrameWork Suite bietet intuitive Benutzerfreundlichkeit
Sehen Sie, wie die intuitive Benutzeroberfläche der Coherent Laser FrameWork Software Suite die Erstellung und Ausführung von Laserprozessen durch einfache Drag-and-Drop-Funktionalität vereinfacht. Das Erstellen eines neuen Prozessrezepts ist jetzt kinderleicht: Ziehen Sie einfach vordefinierte Prozessschritte auf eine Job-Timeline. Laserparameter, Steuerungsbewegungen, Bildverarbeitungsaufgaben und vieles mehr werden mit nur wenigen Mausklicks in einen Auftrag aufgenommen.
Coherent Laser FrameWork verbessert die Produktivität in der Fertigung
Eine einheitliche Laser-Softwareplattform für Schweiß‑, Schneid‑ und Beschriftungsmaschinen vereinfacht die Nutzung und verbessert den Durchsatz.