Key Capabilities
Drag-and-Drop Job Setup

Rapidly create new processing sequences – recipes - by combining processing, inspection, and automation steps on to a job timeline using simple drag-and-drop operations.

Easily Set Access Levels

User access levels allow production personnel to operate equipment without changing job parameters. Operators can move between machines without the need for reconfiguring workstations.

Total System Control

Control laser operation and parameters, beam steering devices, motion system components, digital cameras, and data exchange all within the environment.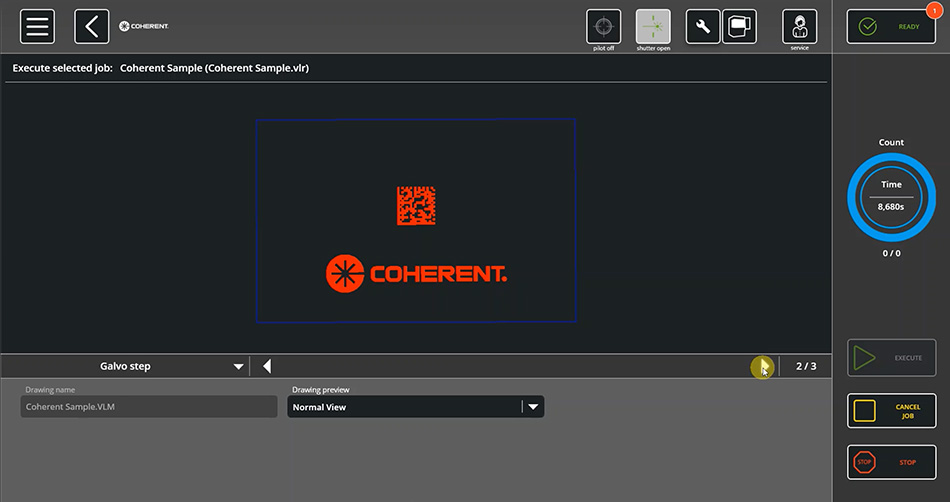 손쉽게 디자인 가져오기
스캐너 기반 애플리케이션에 Coherent Visual Laser Marker 소프트웨어를 사용하고 이전 시스템에서 생성된 마킹 디자인을 원활하게 가져올 수 있습니다.
비디오 스포트라이트
직관적인 사용자 경험을 제공하는 Laser FrameWork 제품군
Coherent Laser FrameWork 소프트웨어 제품군의 직관적인 사용자 경험이 간단한 드래그 앤 드롭 기능을 통해 어떻게 레이저 프로세스 생성 및 실행을 단순화하는지 확인하십시오. 이제 사전 정의된 프로세스 단계를 작업 타임라인으로 끌어다 놓는 것만으로 쉽게 새 프로세스 레시피를 생성할 수 있습니다. 레이저 매개변수, 제어 동작, 비전 작업 등은 몇 번의 마우스 클릭만으로 작업에 포함됩니다.
Coherent Laser FrameWork로 제조 생산성 향상
용접, 절단 및 마킹 기계를 위한 통합 레이저 소프트웨어 플랫폼으로, 사용 방법이 간단하며 생산성을 높여줍니다.