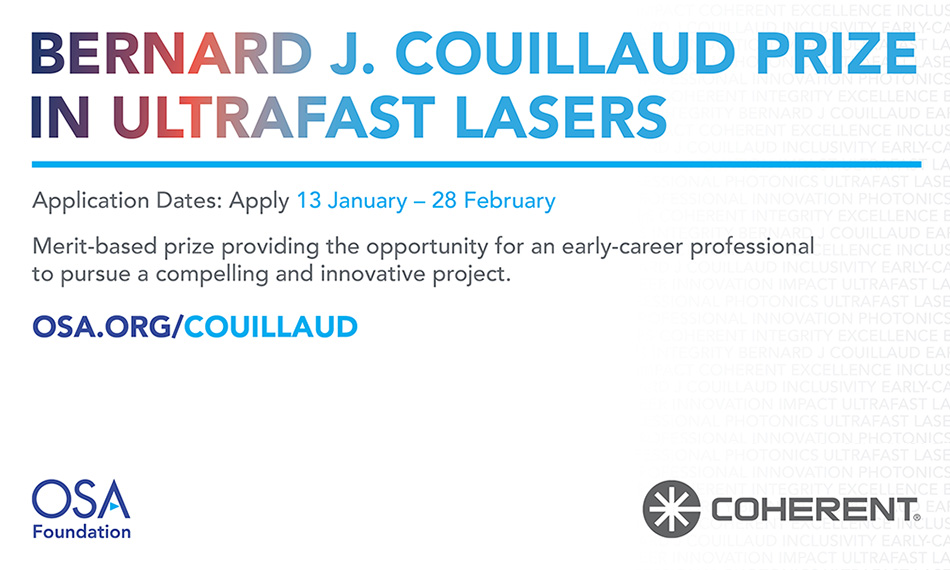 Der Bernard J. Couillaud Preis würdigt Forscher am Anfang ihrer Karriere für wirkungsvolle und außergewöhnliche Beitrage zur Wissenschaft und zu den Einsatzmöglichkeiten von Ultrakurzpulslasern. Jährlich wählen OSA und Coherent eine Jury von angesehenen Branchenexperten (darunter auch der Preisträger des Vorjahres), um jede Anwendung individuell auf Grundlage ihrer Neuheit, Kreativität und Relevanz für die Zukunft der ultraschnellen Photoniktechnologie und ihrer Anwendungsmöglichkeiten zu bewerten.

Der Preis würdigt das Vermächtnis von Dr. Couillaud in einer Weise, die seinen eigenen Leidenschaften und Leistungen entspricht. Er zeichnet Schlüsselbeiträge von Forschern am Anfang ihrer Karriere mit einem Preisgeld von 25.500 US-Dollar aus. Neben dem Preisgeld bewirkt dieser prestigeträchtige Preis dank der Förderung durch die Optical Society und Coherent in den Social Media Anerkennung in der gesamten Laserindustrie.
Bernard J. Couillaud erwarb seinen Ph.D. in Laserphysik 1978 an der Universität von Bordeaux und war später für drei Jahre Gaststipendiat an der Stanford University. Dr. Couillaud kam 1983 zu Coherent und war maßgeblich an der Entwicklung zahlreicher Farbstoff-, DPSS- und Ti:S-Laser beteiligt. Im Verlauf seiner außergewöhnlichen akademischen und industriellen Karriere verfasste er 65 Publikationen und meldete mehrere Patente an. Von 1996 bis 2002 war er President und CEO von Coherent, Inc.
Der Gewinner des Bernard J. Couillaud Preises 2021 wird am 21. Juni 2021 im Rahmen der Plenarsitzung des virtuellen World of Photonics Congress bekanntgegeben.
Bisherige Gewinner
Der Preis wird das dritte Mal verleihen und steht bereits im Ruf, Fachleute zu würdigen, deren Forschungsergebnisse potenziell bahnbrechende Innovationen in der Photonik bewirken könnten.
Gewinner 2019: Dr. David R. Carlson
Der erste Gewinner des Bernard J. Couillaud Award war David R. Carlson vom National Institute of Standards and Technology (Time and Frequency Division). Der Preis würdigte die Bedeutung seiner Arbeit zu nichtlinearen Effekten und photonischen Geräten auf der Basis von Tantaloxid (Tantalpentoxid, Ta₂O₅). Diese Forschungsergebnisse könnten sich auf reale Einsatzgebiete wie etwa Satelliten für die globale Positionsbestimmung und die Genauigkeit ihrer Atomuhren auswirken. 
Gewinner 2020: Dr. Bo Li
Der Gewinner des Vorjahres, Postdoktorand an der Cornell University und jetzt Professor an der Fudan University, gewann den Preis 2020 für seine Entwicklungsarbeit einer adaptiven Laserquelle für die Mikroskopie mit Multi-Photon-Laserscanning. Diese Technologie könnte zu einer neuen Generation von Werkzeugen mit Multiphotonenmikroskopie führen, die tiefes, schnelle und großflächige Abbilden von Strukturen und Funktionen mit zellulärer und subzellulärer Auflösung ermöglichen.
Weitere Informationen zum Preis und zum Bewerbungsverfahren finden Sie auf der Website der OSA-Foundation.
Connect with Coherent
Unser Team unterstützt Sie gern.