Gewinner des Couillaud Preises 2021: Dr. Bowen Li
Der Couillaud Preis 2021 von Coherent würdigt Erfindungen mit Anwendbarkeit für eine grünere Welt.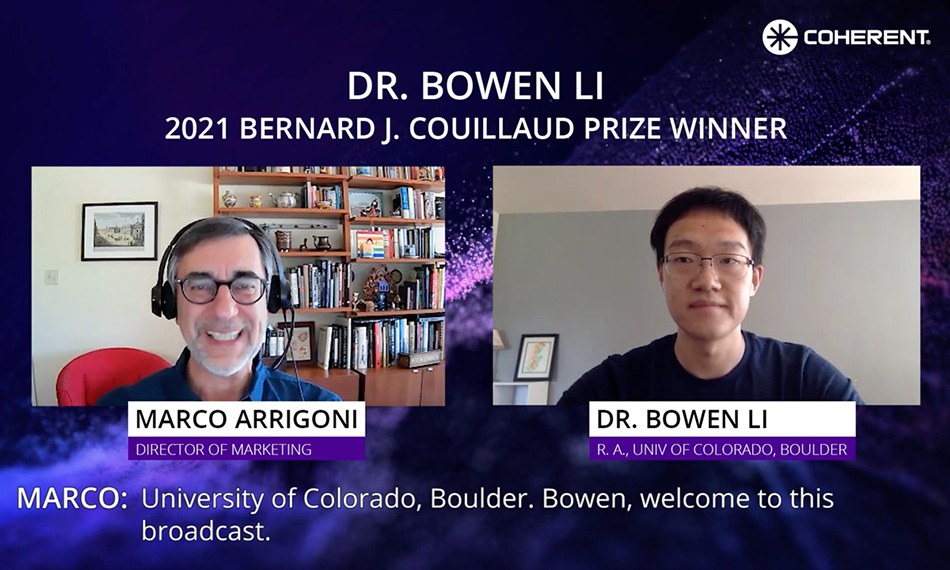 Der Gewinner des jährlich verliehenen Bernard Couillaud Preises 2021 möchte mit Photonik die Welt verbessern. Dr. Bowen Li von der University of Colorado hat einen neuartigen Laser entwickelt, der unter anderem Schadstoffe präziser und empfindlicher als je zuvor messen kann. Das könnte zum Beispiel Fernmessungen von Mikrokunststoffpartikeln im Meerwasser ermöglichen. Der Laser trägt den Spitznamen CANDi by Li, was unserer Meinung nach ein netter Name für eine so großartige Erfindung ist.
Der von Coherent finanzierte und gemeinsam von der Optical Society of America (OSA) verliehene Bernard Couillaud Preis würdigt "Forscher am Anfang ihrer Karriere, die einen bedeutenden Beitrag zur ultraschnellen Photonik leisten". Dr. Li hat mit Sicherheit genau das erreicht, indem er eine neue Generation sogenannter Dual-Comb-Ultrakurzpulslaser entwickelt hat, die hundertfach stärker sind als alle vorhergegangenen.
Diese Art von Laser wird für unglaublich genaue Messungen benötigt – wie etwa die Zeitmessung in Atomuhren, die für die globale Positionsbestimmung (SatNav, GPS) benötigt werden, oder für das Messen von Spuren von Treibhausgasen (THGs) in Kraftwerksschornsteinen. Jetzt plant Dr. Li, seinen leistungsstarken CANDi-Laser für Anwendungen wie das Erfassen von Schadstoffen in Meerwasser einzusetzen. Er erklärt, dass teilweise aus diesem Grund das Unternehmen nach Poseidon, dem griechischen Gott des Meeres, benannt wurde.
Das Preisgeld beträgt 25.500 US-Dollar und Dr. Li gibt an, die Mittel aufteilen zu wollen, um sowohl mehr Forschung in seinem akademischen Labor zu betreiben als auch gleichzeitig den Bau einiger Demo-Einheiten für Poseidon zu beschleunigen. Wir bei Coherent denken, dass dies die perfekte Art ist, das Andenken an Bernard Couillaud zu ehren, der einen ähnlichen Übergang aus akademischen Welt in die Welt der Industrie vollzog und schließlich CEO von Coherent wurde.
Mehr dazu in diesem Video mit unserem Marco Arrigoni im Gespräch mit Bowen Li über seine Forschung und den Couillaud Preis.
Wir gratulieren Dr. Li ganz herzlich.
Connect with Coherent
Unser Team unterstützt Sie gern.